5Ks put participants 'On Guard' against CO suicide
One correction officer's death sparked a drive in two young women to ensure that it never happened again
---
By Ashley Garst
C1 Associate Editor
Bryanna Mellen recalls her father being a great parent.
"I had the most wonderful childhood. He was a very involved dad, always at my soccer games and tennis matches. He enjoyed baseball very much, he was always coaching my brother's baseball teams and he loved the Red Sox. In the last few years of his life, we saw him really withdrawing. Cynicism, negativity and paranoia seemed to really consume him.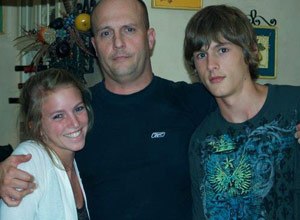 "He completely isolated himself from his friends and family. He was just clearly a different person. We do believe his behavior change was partly associated with his high stress job as a CO in a maximum security prison, but he also had post-traumatic stress disorder and depression that went undiagnosed for many years, and soon it just became too overwhelming for him."
Her close friend, Julie Broderick, says she remembers Mr. Mellen, or Daddy Mellz as he was known to be called, being overprotective of not just Bryanna, but of all of their friends.
"At the time, I didn't understand why he was so overprotective of all of us, but now I understand it was partially due to what he saw at work every day."
Michael Mellen committed suicide on August 25th, 2011, after working as a corrections officer for the state of Massachusetts for 22 years. Both Bryanna and Julie were devastated.
"After the heartbreaking day when he took his own life, I was searching for answers," Bryanna said. "I came across stunning statistics that stated COs have a life expectancy of 58 years, and the rates of post-traumatic stress disorder are the highest of any other occupation.
"After learning this, Julie and I decided to do something about it."
Thus the On Guard Initiative was born. Bryanna and Julie wanted somewhere safe for COs and their families to get help finding resources or support.
"We want to foster a community of healthy corrections officers by involving family awareness and appreciation events to express how much we truly appreciate what COs do for us every day," Bryanna said of the initiative.
Both are no strangers to helping out the community; Julie is a senior at Worcester State University, in Worcester, MA, where she'll be graduating in a few weeks with a degree in Business Administration and Marketing, while Bryanna is a senior at the University of Rhode Island majoring in Public Health with a minor in Psychology. Julie has volunteered for several years at The Learning Center for the Deaf in Framingham, MA, while Bryanna interned for a non-profit organization that worked with children and families dealing with epilepsy.
"The owners, Deb and Rick Siravo [of The Matty Fund in Wakefield, RI] taught me a lot about the non-profit world," Bryanna said.
Julie came up with the idea for a 5K.
"I figured it was a fun, non-threatening way to raise awareness about the issue. It went with the theme we were working on at the time, 'healthy bodies, healthy minds,'" Julie said. "It's a chance for everyone to come together, corrections officers, their families and the community."
They initially found a lot of resistance from the people and organizations they were attempting to assist.
"We were two young women and many people told us it was too tough a subject to address, that no one wanted to talk about it. We knew that no one wanted to talk about it, and that was part of the issue.
"After some disappointments, we met Paul Richard from the SHINE Initiative in Worcester, MA, who fully supported us and helped us get started."
Paul Richard remembers meeting Julie and Bryanna, and only had good things to say of their mission.
"I so admired and respected their commitment to the issue – and the loss that Bryanna and her family had experienced through the death of Bryanna's father – that I felt compelled to support their efforts. My interest, on behalf of the SHINE Initiative, centers on the recognition that chronic mental illness (especially depression and PTSD) is a major factor toward suicidal thought.
"What Bryanna and Julie have established in such a short period of time is noteworthy, particularly in drawing the interest and support of other families and people who work in corrections throughout the Commonwealth of Massachusetts."
In the end, the first 5K they put on ended up having a total of 156 runners; this year's race totaled at 240.
"Taking into account the people there just to support us, there were probably around 300 people there," Bryanna said. "This time around we were able to get our flyers and name into the prisons so there was a lot of representation from the Mass. DOC there, which was great. We started planning the race sooner as well, so many behind the scenes, organizational things were done differently and it made for a smoother day."
Despite not being selected to present their idea to a Global Health conference, the two remain enthused about their mission.
"Our main goal from day one has been to spread awareness, and this was one attempt to get our name out there."
Currently, the two are working on putting together a mental health advisory board and establishing groups for officers and their families. They are also working on several support and appreciation events. Their website currently offers a scholarship, which will be awarded to the child of a corrections officer.
"One core value [my father] instilled in me was to never quit and never give up," Bryanna said.
Julie added, "I do not feel as though the end of his life and the way he left us was a reflection of who he was. I will never forget when I found out what happened and how confused I was because that was not the Daddy Mellz I grew up with."
"We want the COs and their families to know they're not alone."
For more information about the On Guard Initiative, how you can help or to find out more about the scholarship opportunity, check out their website and Facebook page.