Corrections board says changes to visitation won't affect flow of contraband
Report compiled by the board stated that at least 80 percent of weapons found on Rikers Island were made of components already found in the jail
---
By C1 Staff
NEW YORK — The Board of Corrections said that Mayor de Blasio's move to restrict contraband introduced to the jail by restricting visitation was unlikely to work.
The Capital New York reports that a report compiled by the board stated that at least 80 percent of weapons found on Rikers Island were made of components already found in the jail.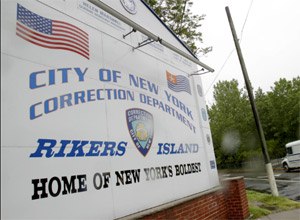 The mayor and the Department of Corrections announced new limitations on visitors in March, though all policy proposals must first be approved by the board.
The visitation restrictions would prevent physical contact between visitors and inmates, and would install plexiglass partitions at visiting tables.
The policy changes are also opposed by a coalition of advocates for children and families, who say the changes will reduce the quality of visitation at the jail and eventually exacerbate violence by isolating people from loved ones.
Ponte was also chided for not supplying the petition for the policy changes to the board, which postponed discussion of the changes until June.
Ponte said the department was working on supplying the requisite information to the board, and that the holdup was due to a lack of a "well-established process."