Has "Orange Is The New Black" changed perceptions of women in prison?
---
A recent post to Quora asked, "Has 'Orange is the New Black' changed perceptions of women in prison?" OINTB star Uzo Aduba gives her response below; add your own in the comments.
Absolutely, a firm yes. Before this show, I think I was not unlike Piper or perhaps even many viewers of the show, who, not that they didn't realize that the inmates were people, but just simply didn't recognize that they had a life and a story.
Every sentence has a story. It really is true. It wasn't until I read the pilot and I auditioned that I was like, 'Wow, that was really great. I would love to be a part of the story like that.'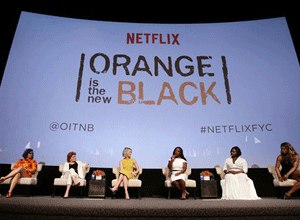 My character came in during the second episode and when I was reading the script (I think I was about a quarter way in), I reached the part with Red's backstory and I immediately understood the show. This person, this story that we're telling, actually has absolutely nothing to do with their crime.
If you notice, it's actually really interesting. For a lot of the characters, we don't even know why they're even in there and you can come to this conclusion from just watching 13 episodes. The show has little to do with their reasons for being in jail.
It has more to do with who they are inside jail, who they were before going to jail, and what pieces of who they are remain and/or changed. I found it to be a fascinating study. Being on the show forced me to depart from the crime portion and instead view these women as mothers, daughters, neighbors, aunts, children, and babysitters. They are people with jobs and people who had lives.
They are not just a number, not a crime, not a jumpsuit. They're people.