Inmate pleads guilty to killing Utah prison guard
Under a plea deal with prosecutors to avoid a possible death penalty, Curtis Michael Allgier, 33, agreed to a life sentence without the possibility of parole
---
By Shannin Dininny
Associated Press
SALT LAKE CITY — A Utah inmate known for the neo-Nazi tattoos that cover his face and body pleaded guilty Wednesday to murdering a prison guard in 2007.
Under a plea deal with prosecutors to avoid a possible death penalty, Curtis Michael Allgier, 33, agreed to a life sentence without the possibility of parole after pleading guilty to aggravated murder and other charges.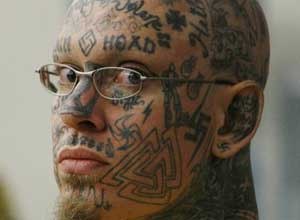 Authorities said Allgier killed Stephen Anderson, a prison guard who was shot with his own gun while escorting Allgier to a doctor's appointment on June 26, 2007.
Prosecutors approached defense attorneys with the plea deal about three weeks ago, after Anderson's family members said they didn't want the case to drag on any longer and that they would be satisfied if Allgier spent the rest of his life in prison, Salt Lake County District Attorney Robert Stott said.
Sentencing is scheduled for Dec. 5.
Anderson, 60, of Bluffdale was a 22-year employee of the Utah Department of Corrections. He is survived by a wife, five adult children and 18 grandchildren.
Anderson's family members were in court Wednesday.
"We recognize that it's very merciful and forgiving of them." Richard Gale, Allgier's attorney, said of their decision.  "Some of the lesser charges, he had issues with, but ultimately he decided if they're not seeking the death penalty, he would agree."
Allgier also pleaded guilty in 3rd District Court to felony counts of disarming a peace officer, aggravated escape, aggravated robbery and possession of a firearm by a restricted person. He pleaded no contest to three counts of first-degree felony attempted aggravated murder.
While he was an inmate at the Utah State Prison on firearms violations, Allgier fled the University of Utah medical facility on foot after the shooting. Authorities said he stole a vehicle and led police on a high-speed chase. When the vehicle was disabled, he ran into a restaurant, where a patron disarmed him.
Prison officials have said Allgier was a member of a white supremacist group called the Aryan Empire Warriors. His face and body are heavily tattooed, and he has the words "skin head" over his eyes.
Twice paroled, he had a lengthy criminal history in state courts, with convictions dating to 2000 for forgery, burglary and theft, according to records.
The attempted escape wasn't the first for Allgier. He quietly walked away from a work detail in 2001, and five years later, he ditched an ankle monitor while on parole and holed up in a motel. Police found him after he crashed through ceiling tiles from an attic hiding place.
The murder case dragged on for several years while attorneys argued over mental evaluations for Allgier, who repeatedly sought to represent himself.
Stott said he was satisfied with the plea deal, given that Allgier acknowledged what he did and there will be no appeals going forward.
"A sentence where a person has to spend every day of the rest of his life in a small cell is a pretty harsh sentence, and that's what's going to happen to him," he said.  "He'll be there forever.
___
Information from: The Salt Lake Tribune, http://www.sltrib.com