Man gets 37 years for trying to run over jail employees
Bass Webb was formally sentenced Monday to 37 years in prison for trying to run over two Bourbon County jail employees in 2009
---
By Karla Ward
Lexington Herald-Leader
LEXINGTON, Ky. — Bass Webb was formally sentenced Monday to 37 years in prison for trying to run over two Bourbon County jail employees in 2009, Bourbon County Commonwealth's Attorney Gordie Shaw said Tuesday.
A jury recommended the 37-year sentence in March. Webb had been charged with two counts of attempted murder for trying to run over deputy Ryan Barkley and pre-trial officer Josh Mason in the county jail parking lot in Paris.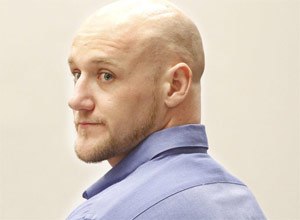 He also was sentenced to 50 years in prison in September after pleading guilty to murder in the death of his estranged girlfriend, Bryia Runiewicz.
Webb is scheduled for trial next year in Montgomery County in the death of another former girlfriend, Sabrina Marie Vaughn, who disappeared in 2003. Her remains were found in 2010.
Webb is scheduled for a hearing in November in a Bourbon County case in which he spit on a judge, Shaw said.