NM jail workers on leave after using tear gas, TASER to subdue inmate
Several jail employees, including four supervisors, have been put on paid leave while Bernalillo County authorities investigate the use of tear gas and a Taser to restrain an inmate
---
Associated Press
ALBUQUERQUE, New Mexico — Several jail employees, including four supervisors, have been put on paid leave while Bernalillo County authorities investigate the use of tear gas and a Taser to restrain an inmate.
The Albuquerque Journal reports surveillance video released by the county Friday shows corrections officers tackling 33-year-old Amanda Chavez inside the Metropolitan Detention Center earlier this week.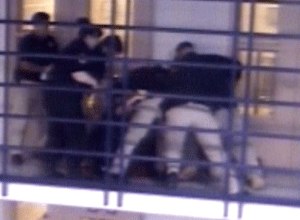 In the video of the Monday incident, two guards tackle Chavez after searching her cell and repeatedly knee her in the sides.
She is then sprayed in the face with tear gas and stunned with a Taser.
It is not clear what prompted the tackle.
Chavez is escorted out of the cellblock after five minutes.
Jail officers reported the incident to the Bernalillo County Sheriff's Office, which has launched the investigation.