NY man posts photo of keys dangling near prison door to Facebook
Christopher Molloy posted the photo to his social media account on Jan. 1
---
By C1 Staff
AUBURN, NY — A man who noticed a potential breach of security at a nearby correctional facility posted a photo of the event to his Facebook.
Christopher Molloy posted the photo to his social media account on Jan. 1; in it, a ring of unattended keys dangles from a series of cables and hooks about three feet from the ground in front of a door to an Auburn Correctional Facility guard tower, according to the Auburn Pub.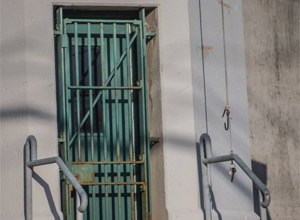 Molloy said in a Facebook post that he posted the photo after notifying officials, whom he said "didn't seem very happy" about the breach.
He also said he's been criticized by corrections officers for posting the photo. Allegedly some even went so far to contact his employer about the post, and someone reported the photo to Facebook for nudity.
Despite that, Molloy's page has received tons of support messages, as many point out he brought a potentially dangerous security risk to light.
Molloy declined to speak to the media directly until he speaks with the New York State Office of the Inspector General.
"I will do the right thing. I have contacted the NY State Inspector General's Office. Not going to be dogged or bullied," he posted Tuesday.