'Orange' uncorked: How did we become the bad guys?
The media fails to show that corrections officers deal with the most irritating individuals in all society
---
We became corrections officers so we could go to work every day representing the good. We deal with criminals confined to constitutional walls, but it is us who chose a life sentence. Not a day goes by that we aren't only seen for the uniform we wear.
Criminals do not see us as people: a father, a son, a mother, a daughter, a sister, a brother or a friend. They just see us as an enemy; the badge. I expect to be viewed this way by criminals, but I do not accept when our profession constantly is shown in a negative light by the media.
Orange Is the New Black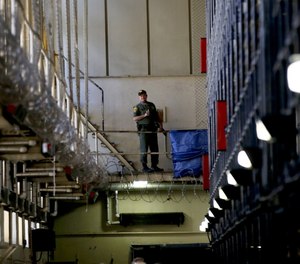 The Netflix show, an adaptation of Piper Kerman's memoir, "Orange is the New Black," does two things:
It gets you hooked.

It portrays correctional officers in the worst possible light.
Why?
I usually avoid police dramas. I know I am missing out on some well-written television, but when I am off-duty, I am not interested in watching work-related shows. I live in jail and deal with bad guys more than I live in the real world, so my time off is my escape.
Since being introduced to "Orange is the New Black," I could not keep from watching and wasn't even sure why. It was super entertaining, but left me questioning why the show portrayed corrections officers as it did. I had to keep watching, searching for answers. Unfortunately my questions were never answered, but every free minute I had turned into an "Orange" marathon until I had watched every episode.
How did we become the bad guys?
For those of you who are not familiar with the show's storyline, it's the true story of a college-educated, middle-class woman who is convicted for her participation in a drug smuggling ring 10 years prior and sent to do 15 months in a Connecticut federal prison. Piper finds her world turned upside down as she attempts to adjust to prison life. With the characters' backstory, the show forces viewers to be more sympathetic toward the inmates than the guards.
Every corrections staff member, from the assistant warden to the counselors, are all unlikable, corrupt or inappropriate. There is only one likeable corrections officer and he's having an illicit romance with a prisoner. And Officer Porn-stache is based on a real guard. Now that's scary.
As I watched on, I saw that the show's main theme is that everyone is human, whether corrections officer or inmate. It shows that every character has a story and explains how they got where they are. But could this have been done without the negative representation of corrections officers?
False portrayal
The media likes drama, sensationalism and negativity. America thrives on drama. Bad is entertaining, while good is boring. How often do we hear about the good things corrections officers do on a daily basis in the media? We really don't. This time is no different. "Orange is the New Black" does a good job distorting the image of corrections officers, which affects the occupation's reputation as a whole.
While our occupation isn't free of personnel misconduct, the reputation of those who are doing their jobs professionally and loyally has been tarnished. Hollywood isn't helping us break free from the negative stereotype when shows and movies depict corrections officers who have no business being in the job.
Society does not really know what a corrections officer's job consists of; thus, the public learns from shows like this. I started asking around about what people think corrections officers do after watching "Orange is the New Black." I assumed they knew more than they actually do.
Mainly, the public thinks corrections officers are babysitters who are responsible for making sure the needs of inmates are met. While this is a part of our job, it is society's lack of information of what we really deal with that is also affecting how the media portrays us.
Media matters
Media portrays corrections officers as lazy, crooked, overpaid, system-milking, power-hungry, hardened and desensitized. Media fails to show that we are dealing with the most irritating individuals in all society.
Just because criminals are behind bars does not mean they give up their criminal ways. Corrections officers on a daily basis put their lives at risk, deal with constant verbal and physical abuse, catch new crimes being committed and work in a world of absolute negativity. It seems that everyone forgets corrections officers are human too.
"Orange is the New Black" definitely took me to a higher realization about my job. I have seen things differently since watching the show. I have, for some reason, paid more attention to the daily abuse I have encountered during my first month back in intake after a two-year stint at our honor camp. I realized how hard a job we have and what it requires from a corrections officer to be professional and patient through it all.
I realized there is nothing we can do to change how criminals, society or the media portray corrections officers and our occupation. All I can do is continue to do my job ethically and with dedication. I refuse to allow anything or any inmate label me as weak, corrupt or vulnerable.
But on the other hand...
The other night a female who had never been to jail was booked in for being drunk in public. She was shaking and crying and asking if she was going to die.  My trying-to-be funny response was, "You watch way too much TV!" and she nodded her head, explaining her fears were from watching every episode of "Orange is the New Black."
She was terrified that in the few hours she would be incarcerated until she sobered up and released, that she would be raped or attacked, or both. I had not thought about the effect on the public this show had about going to jail since I had been so focused on the corrections officer side. Wouldn't it be nice if the violence and sexual activity threat to prisoners would scare people straight? And wouldn't it be nice if this would result in compassion for corrections officers and the work they do?
Neither will happen.
Having talked about the show so much at work, some coworkers have surrendered to their "Orange is the New Black" fixation. I keep asking those who are watching why is it so addicting. I cannot seem to find the answer. 
In the meantime, I am reading Piper's book, which is just as entertaining and engrossing. I guess there's no question in saying that I have surrendered to my prison sentence. I think it is going to be a long one, and I am happy to be serving time with "Orange is the New Black."

This article, originally published 09/24/2013, has been updated.