S.C. maximum-security on lockdown following reports of disturbance
Department of Corrections has confirmed that they are dealing with the situation
---
By C1 Staff
BISHOPVILLE, S.C. — The maximum-security facility in Bishopville has been on lockdown since 10:30 this morning following reports of a disturbance.
The Department of Corrections hasn't released any details further than they are dealing with the incident at the Lee Correctional Institution. Some reports, according to WLTX-TV and FITS News, indicate that several inmates have taken at least one correctional officer hostage.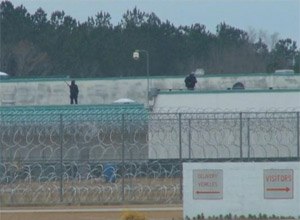 Reuters reported that over 15 law enforcement vehicles sped onto the prison grounds earlier this afternoon, and two more arrived later.
Two ambulances have also arrived on the scene. Armed guards are patrolling the rooftops of the facility.
Photographs from within the prison were posted on Twitter, showing trash and broken material littering the floor with the lights out. A fourth image that's since been pulled showed two inmates lying down, one on a bed frame and another curled up in a fetal position on the floor, according to Reuters.
#BREAKING: Inmates inside Lee Correctional sent #News19 these photos of what's gong. More NOW http://t.co/cIbvqYjAHY pic.twitter.com/s2FHovJXLU

— News 19 WLTX (@WLTX) February 27, 2015
In 2012 at the same facility, inmates held a correctional officer hostage in a closet for hours before he was freed. In 2003, two officers were taken hostage and one was stabbed in the arm with a homemade knife.
Lee Correctional recently had significant security renovations, including two guard towers costing $237,000 to keep prisoners from escaping and to keep contraband out.
The facility also had a $2.2 million camera system installed that featured the ability to detect body heat and night vision.