Students march to protest KKK and 'racism' in Fla. prisons
Shouting "DOC, KKK, how many people have you killed today," a group of about 100 students marched on the Capitol protesting racism in Florida and it's prison system
---
By Mary Ellen Klas
Miami Herald
MIAMI — Shouting "DOC, KKK, how many people have you killed today," a group of about 100 students marched on the Capitol late Thursday protesting racism in Florida and it's prison system. 
The rally began at the Florida State University Westcott building and continued up College Avenue as the sun set on the Capitol. They shouted chants and carried banners that read "Klan out Now," "Crush the KKK" and ended the march on the Capitol steps, where they burned a Confederate flag.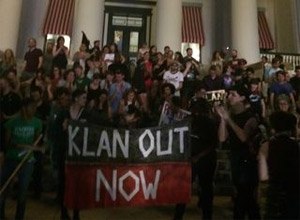 The rally, organized by the Students for a Democratic Society at FSU, was prompted by the distribution of recruitment flyers from the Ku Klux Klan in Tallahassee neighborhoods and reports of racist attacks on prisoners at the Department of Corrections, said Zachary Schultz, an organizer of the rally.
"Our position is any attempt by the KKK or any white nationalist to organize, we are not going to let it fester,'' he said.
The Tallahassee Democrat reported that fliers directed at the Islamic faith proclaiming "Save our Land. Join the Klan," were packaged with bags of candy and distributed in Tallahassee neighborhoods in March. 
Frank Ancona, the self-proclaimed Imperial Wizard of the Traditionalist American Knights of the KKK, was among the three current and former officers at the Department of Corrections who were arrested by the FBI last week for plotting the murder of a released inmate.
"That just shows they are a terrorist organization in the United States and we're going to organize, build a movement here, and show all the white supremacists there are people in Tallahassee that are ready to fight back," Schultz said.  
Florida Department of Law Enforcement officers monitored the peaceful event and members of the Tallahassee police bicycle squad were also at the scene.