The purposes of mini-teams
---
You receive a call out alert to respond to inmates fighting with injured officers trapped inside a dormitory containing about 45 inmates classified as medium security. You report to your staging area, put on your gear, get your inspection completed, get issued your weapons, hear your brief and fall in line to respond to the riot.
Communications of all staff combined with control of personnel, accountability of actions-equipment and weapons are the very important factors inside a correctional facility. Being able to stay calm under stress, ability to have a show an organized force response and stay effective under chaos is vital to the success of any correctional mission. 
The main purpose of mini-teams is to allow for effective communications, accountability, and control needed between all responding parties team members — the mini-team, squad leaders and command or control center.
A mini-team is comprised of one mini-team leader a center/middle person accompanied the right and left flank member. Each team member of the mini-team is equipment consisting of:


Ballistic helmet

—

With drop shield

—

 Emergency release strapping system

Protective mask

—

 With ambidextrous filtering

—

 Hydration capabilities

—

 Soft lens mask with safety cover for lens

     i. Provide the maximum vision possible in correctional setting

     ii. Best vision support for firing shoulder fired weapons

Soft body armor for shank threats

—

 These weapons are easily concealed by inmates and are life threatening to officers

—

 Remember blunt trauma protection is only for strikes, kicks, and getting hit

Blunt trauma protection;

—

 Chest/back

—

 Shoulders

—

 Arms

—

 Hips

—

Upper Legs

—

 Lower Legs

—

 Bridge of Foot

Latex gloves

—

 Extra pair recommended

Tactical gloves

—

 Padded

—

 Full finger recommended

—

 Flame resistant recommended

Load bearing vest with pouches for required weapons, equipment and munitions

—

 Easy on and off

—

 Adjustable to fit various sizes

—

 Fits over protective gear without binding or restricting movement from officer

Duty Belt consisting of:

—

 Handcuffs and case (Key)

—

 Baton and carrier

—

 Radio and carrier

—

 Personal first aid kit (CPR mask)

—

 Flashlight and case

—

 Aerosol with case

Tactical boots (steel toe recommended)

—

 Full length or 9 eye lids high

Flex cuffs and cutter

—

 Everyone officer has a cutter and flex cuffs

Note all tactical equipment is recommended to be flame resistant and or non flammable
Responsibilities and positions
Before the squad receives their operational brief, the squad leader can be assured that each member has been inspected and awaiting their brief because of the mini-team leader's responsibilities.
The mini-team leader is positioned to the rear of the team giving them the best location for command and control of their squad. In this position they can best survey areas, protect their team, and evaluate and respond to threats accordingly. 
The center/middle person is positioned in front of the mini-team leader and centered in the mini-team. This position is also referred to as the assistant mini-team leader so if places them in the best position possible to hear commands, and respond effectively to alternative methods of communication when used by the mini-team leader, maintaining alignment for each team member.
Right and left flank personnel are positioned on the shoulder of the center or middle person accordingly. It is recommended that the strong or dominant hand of the officer places them in the best position possible within the team. They are the team enforcers, and support for movement, maintaining position and security of the team.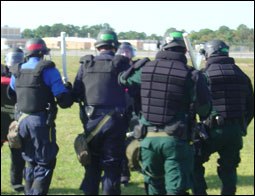 The squad is comprised of 13 immediate officers plus one squad leader — made up of 3 mini-teams in the front and one squad leader, supported by one additional mini-team which works as the arrest or detention team and can provide relief for any of the mini teams or replace a mini-team at the option of the squad leader.
The mini-team leader is responsible for their mini team's training, welfare, accountability, equipment and actions on and off the field. This relieves the burden of having 1 squad leader being responsible for 13 or more personnel.
Additionally the center or middle person is the assistant mini-team leader, repeating each command they hear from the mini-team leader and the main focus of alignment during movement. They are the one who ensures the mini team follows each command and watches over their right and left flank.
Due to lack of personnel within a correctional facility, and the emergency rapid response needed within a facility these mini-teams are vital to officer's safety and effective responses

Ultimately the goal of each correctional institution is to have an emergency response squad on each shift consisting of a total of 25 officers when possible:
Squad leaders (1 officer)
Emergency response squad (13 officers)
Arrest/Detention team (4 officers) 
Non lethal support officers (4 officers)
Recorder (1 officers)
Utility person (1 officer)
For additional support personnel each mini team is assigned a non lethal officer. This non lethal officer is responsible for deploying any of the non lethal weapons your agency uses such as but not limited to:
Large MK46 chemical aerosols

Air launched weapons
Pepperball Systems FN303
Shotguns for non lethal or lethal support
37/40 MM Launchers for deploying chemical or specialty impact munitions, etc.
If there are no additional officers available for this position then the mini team leader assume the non lethal officer roles.
Maintaining Control on the line
During a rapid emergency response into a correctional facility control of formations, weapons and personnel is crucial. The use of mini-teams will allow the squad leader to only give their command directly to the mini-team leaders, therefore reducing the miscommunication between command and personnel, but also enable them to communicate with the command center.
At times inside or outside of the correctional facility controlling the noise is not within our ability. So there may be a need for alternative methods of communications. First, by using mini-teams the squad leader only has to ensure their verbal commands are heard by each mini-team member which is only 4. They are carefully position with 3 to the front and one to the rear of the squad leader.
Once the mini-team leaders hear the commands from the squad leader they repeat the commands to their mini-team which again is positioned directly in front of them within touching distance.
One heard the center/middle person repeats the commands to his left and right flank when moving.  If the noise is too loud for them to hear then we use a "Touch and Feel," method of communication which is physically moving them into position or direction. In worst case situations, when the squad leader is unable to verbally communicate with the mini-team leaders, they can just walk to the center mini team within their squad and physically move them. Since we align to the center, once the rest of the team sees the middle moving or changing direction they will follow.
Whistles and bull horns can also be used for a more immediate response to command. This is achieved by ensuring all team members know what to do when they hear:


1.A long steady whistle or horn blast

—

 they "Stop!" or "Cease firing weapons."
2. Several short choppy whistles or horn blast

—

 they "Advance forward or continue operating weapons."
3. Low tone to high tone

—

they start to "Retreat to the rear or to the last place they secured."
Flashlights are used in low light situations or when you can control the lighting at your location. Flashing lights on and off, or for periods of time can be used as a distraction and effective methods of communication when your officers are unable to hear them. So, when the officers see:
1. Flashing lights that stay on for a count of 3 seconds at intervals continuing to go off, repeating itself over and over again

—

 they "Stop" or "Cease firing weapons."
2. Flashing lights of several short bursts of lights less than 1 second long repeating itself over and over again

—

they "Advance forward or continue operating weapons."
3. Flashing lights go off and stay off for a 10 second count then go on and repeat itself over and over again

— this 

means to start to "Retreat to the rear or to the last place they secured."
Colored chemical lights used at night operations or colored Smoke used in daylight operations or lighted areas are used in extreme vision conditions, when you are unable to give effected verbal commands, and officers are scattered to far apart for any other method of communications. A different color signals the officers to execute a different command. So when the officers see:


1. Red — they "Stop" or "Cease firing weapons."
2. Green — they "Advance forward or continue operating weapons."
3. Yellow — "Retreat to the rear or to the last place they secured."

Of course you can use many other command options and get more detailed, however for each signal you choose to use training will need to be conducted to ensure officer comprehend and understand what is expected to you.
So as you can see, the use of mini-teams can be very effective for command, control and accountability of your personnel. Do not let lack of man power be the reason your officers get hurt or mission failure. Mini-teams will improve you officer safety and mission readiness.
The above information is provided to you in an effort to broaden your knowledge about mini teams and the strengths they support for emergency operations for correctional facilities. Good luck in there, and remember "Train hard, be safe and most importantly – STAY ALIVE!"