NY county asks ICE to leave East Meadow jail campus
Nassau County officials have given the U.S. Immigration and Customs Enforcement agency until Jan. 31 to vacate
---
Scott Eidler
Newsday
Nassau County officials have given the U.S. Immigration and Customs Enforcement agency until Jan. 31 to vacate a trailer at the county jail in East Meadow, citing an appellate court ruling against a Suffolk policy of holding individuals under federal warrants.
Six officials from ICE's Office of Enforcement and Removal Operations are expected to leave the trailer by Jan. 31.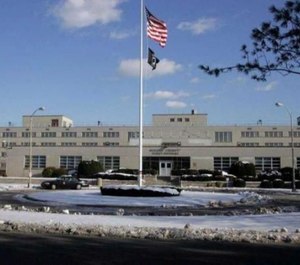 In November, the Appellate Division of state Supreme Court ruled 4-0 that, "the retention of prisoners, who would otherwise be released, pursuant to ICE detainers and administrative warrants is unlawful."
Civil liberties proponents had sued former Suffok Sheriff Vincent DeMarco, seeking to overturn his policy of holding immigrants for deportation. 
""We want to make sure that we're complying with the law and we're aligning what we're doing with that law," Nassau County Executive Laura Curran, a Democrat, said Monday. "We're still going to work with our federal partners where it is appropriate. Nassau County is tough on crime."
Nassau Police Commissioner Patrick Ryder said, "we're also going to make sure the community trust is rebuilt."
Ryder argued that, "You cant say, 'Oh he was in the jail for four days holding him for ERO [federal Enforcement and Removal Operations]. No, he was in the jail for four days because he didn't make bail for the charge that he was in there for." With ICE "off the campus, that process won't be confused."
In a Nov. 20 letter, the Nassau Sheriff's Department told ICE the appellate decision, "negates the need for your presence" at the county jail.
But Thomas Decker, an ICE field office director, said in a Dec. 14 letter that the county had gone too far.
"I do not feel that it is so far-reaching that it should be cause for elimination of our cooperative efforts that have been forged and burnished over decades," Decker said of the court ruling. 
Nassau had set a deadline of last Dec. 28 of last year, but granted an extension until Jan. 31. Decker had requested a 60-day extension.
Decker said ICE wanted to ensure that, "criminal and deportable alien gang members are not released into the communities of Nassau County when a lawful and efficacious manner to remove them . . . is available."
Decker said, "threats posed by foreign based criminal organizations operating in the United States are real." He cited the "threat posed by MS-13 gang members" on Long Island.
Majority Republicans in the county Legislature are scheduled to hold a news conference Tuesday to call on the Curran administration to delay ICE's removal.
"They had set a deadline, ICE had responded that they had a 20-year relationship . . . They had continuing reasons to be there," said Presiding Officer Richard Nicolello (R-New Hyde Park). "We believe those reasons should be fleshed out ... before they went ahead and tried to kick them off county property."
Nicolello said there still may be, "a value to having ICE on that property . . . especially with individuals suspected or involved in gang activity."
Rep. Thomas Suozzi (D-Glen Cove) called the ruling, "actually a positive development for the community policing efforts for Nassau County . . . The presence of the trailer at the jail was creating an impression that the county was involved in the deportation business."
But Rep. Peter King (R-Seaford) said, "I strongly believe that ICE should be kept at the correctional center. I believe that the correctional center and ICE should try to negotiate a partnership . . . " For instance, ICE could point out which prisoners are in MS-13, King said.
Michael Sharkey, Suffolk's chief deputy sheriff, said ICE has staff in a trailer on the campus of a county correctional facility in Yaphank. "There's no plans at this point to ask them to leave," he said.
However, he said, "We're a law enforcement agency, we follow the law at its most recent interpretation, and currently we cannot hold people on administrative warrants." 
———
©2019 Newsday