Corrections officers at Maine jail now carrying naloxone on their belts
COs no longer need to find a locked first aid kit, which could be on another floor, to access the drug
---
By Troy R. Bennett
Bangor Daily News
PORTLAND, Maine — Corrections officers at the Cumberland County Jail are now carrying the opioid overdose reversal medication Narcan on their belts, right next to the handcuffs and pepper spray.
Officers no longer need to find a locked first aid kit, which could be on another floor, to access the powerful, life-saving drug. Cumberland joins a growing list of Maine counties with corrections officers armed with it. Many other Maine law enforcement agencies also carry Narcan.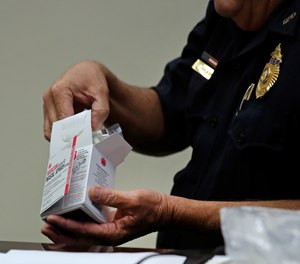 Narcan is a brand name of the drug naloxone, which is usually administered through the nose during an opioid overdose. The naloxone rapidly reverses or blocks the opioids' effects, restoring normal respiration and saving the victim's life.
Cumberland County corrections officers began carrying Narcan at the start of 2023, according to jail officials.
"It gives our COs peace of mind when time is of the essence for everyone's safety, including their own," said Cumberland County Jail Reentry Specialist Jennifer Galletta. "They could be exposed as well."
In 2018, a bag of the powerful opioid fentanyl went airborne at the jail as officers scuffled with a man going through the intake process. Several officers were then transported to the hospital, though it's unclear how or if the fentanyl affected them.
Last year, the Portland Press Herald reported a Windham man was charged with providing a deadly dose of opioid drugs that killed an inmate at the jail in August.
A 2017 state law gave Maine corrections officers permission to administer Narcan. Soon thereafter, supervisors at the Penobscot County Jail began carrying it. Now, every corrections officer does the same.
Other Maine corrections officers carrying Narcan include those from Androscogggin, Kennebec and Waldo counties. At the Piscataquis County Jail, officers are encouraged to carry the drug, but it is not mandatory.
Cumberland County Jail officers have not yet had to administer Narcan to an inmate since they began carrying it earlier this year. It's usually only used a few times per year, said Bill Prout, the jail administrator executive assistant.
Prout said exact numbers are hard to come by since Narcan is sometimes administered in medical settings, as well as in the jail's residential units. Prout said he remembers that once, officers administered Narcan to a visitor in the parking lot at least once.
[RELATED: Photos: S.C. detention center gets Narcan vending machine]
"In all of last year, it was given maybe twice," he said. "Though we stop an awful lot of fentanyl trying to come in here, so it's a smart thing to have."
Across the state in 2022, an estimated 716 Mainers died out of approximately 10,000 drug overdoses.
The idea for corrections officers at the Cumberland County Jail to carry Narcan came last fall, from corrections officers themselves.
At the time, Galletta and other reentry specialists were working with University of New England students, faculty and staff on kits for inmates reentering society. The harm-reduction bundles are given to inmates getting out of jail to help ease their transition and keep them safe.
The kits include an array of items, such as fentanyl test strips used to detect whether the opioid is present in other drugs, personal care items, resource contact lists and a personal note from a UNE student, welcoming them back to the world on the outside.
The kits also contain Narcan.
That got some Cumberland County corrections officers thinking that if the former prisoners were carrying it out the door, why weren't they carrying it inside?
Lexie Bernier, who is a full-time Cumberland County Jail reentry specialist and part-time corrections officer, helped bring the idea to jail administrators.
"They thought it was a great idea," Bernier said.
Portland Public Health, run by the city, supplied the Narcan.
Bernier has worked at the jail for two-and-a-half years and has never had to administer Narcan but feels more confident, having it close at hand. She thinks other Maine jails would be wise to follow suit.
"They should," Bernier said, "It's a good idea."
NEXT: Why Narcan belongs in the jail booking area
___
(c)2023 the Bangor Daily News (Bangor, Maine)
Visit the Bangor Daily News (Bangor, Maine) at www.bangordailynews.com
Distributed by Tribune Content Agency, LLC.
McClatchy-Tribune News Service