Inmate with 'F*** Cops' face tattoo dies after fighting COs
Fla. man claims he was high on meth, hadn't slept for 5 days before violently struggling against jail deputies
---
By Greg Friese
WINTER HAVEN, Fla. — Fla. officials are investigating the in-custody death of a combative inmate high on meth who died after a prolonged fight against Polk County Sheriff's Office deputies. 
According to Polk County Sherrif's Office, Eric Nelson, 46, a registered sex offender with a "F*** Cops" face tattoo, was arrested for suspected burglary. He was in possession of syringes and a baggie with a substance that tested positive for methamphetamine. Nelson told the officers that he uses the needles to "shoot meth." He was placed under arrest and charged with possession of methamphetamine and drug paraphernalia.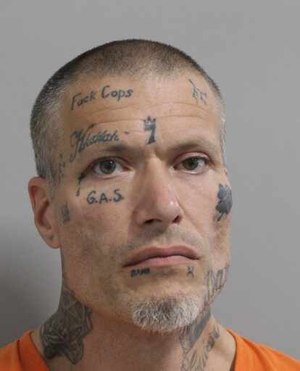 During transport, Nelson became agitated and cursed at jail staff. After being placed in a private holding cell due to his behavior, he became enraged and began repeatedly kicking the cell door.
Due to his violent behavior and threats to harm deputies and other inmates, medical staff determined that he would need to be placed in the medical dorm on suicide watch. He was then transported to the county jail. 
 
At the jail, Nelson was instructed to remove his clothing and put on a smock. Nelson initially refused to change clothing, but then abruptly removed his shirt, threw it on the floor, and attacked one of the deputies, punching him twice in the face.
Nelson continued to violently fight as the three deputies present attempted to place him into handcuffs. Even after being placed on the ground, he continued to fight, punch, kick, and bite the deputies. The deputies got one handcuff on one of his wrists, but he swung his arm with the loose handcuff around in an attempt to strike the deputies and was able to get up off the floor, at which time more deputies arrived to assist.
Deputies deployed their agency-issued chemical agent (spray) in order to gain control over the inmate, which had no effect, and the inmate continued to violently fight and resist the deputies. He was also biting them.
According to the release, deputies were eventually able to secure Nelson in handcuffs and place shackles on his leg as he continued to fight and kick the deputies. The inmate was then carried by four deputies to a cell as he continued to fight.
When they arrived at the private cell, he was placed on the floor so his restraints could be removed, according to protocol. Once they were removed and deputies prepared to leave the cell, they observed he wasn't breathing and his face was changing color. The jail and medical staff immediately retrieved an AED and began CPR, and the inmate was transported to a local hospital, where they continued life-saving efforts to no avail.
 
Nelson's had an extensive 26-year criminal history including 12 felonies and 4 misdemeanors, and 5 felony convictions. His prior criminal charges include rape, battery on a LEO, resisting arrest with violence, failure of sex offender to report name or residence change, use of false info to obtain an ID, fugitive from justice, grand theft of a motor vehicle, grand theft, dealing in stolen property, possession of heroin with intent to sell, and drug possession.
He has been incarcerated in the Florida State Prison system three times: from 2004 to 2006 for battery on a LEO, resisting arrest with violence, and possession of meth; from 2011 to 2013 for grand theft, criminal use of personal ID, and failure to comply with sex offender registration; and from August 2019 to August 2022 for violation of probation (3 counts). He is a registered sex offender based on a 1997 arrest in Lexington, Kentucky, for rape. 
 
Per standard protocol, there are four investigations currently underway: an independent investigation by the 10th Judicial Circuit Officer Involved Deadly Incident Task Force; an internal investigation by the PCSO Administrative Investigations Unit; an independent investigation by the State Attorney's Office which will render a final decision on the deputies' use of protective action; and the Polk County Medical Examiner conducts the autopsy to determine the manner and cause of death.