Proposed Ohio amendment would limit drug sentences
Amendment will ask voters to reduce penalties for drug offenses, send defendants to treatment
---
By Jim Provance
The Blade
COLUMBUS, Ohio — A state panel Wednesday fashioned language that voters will see on the November ballot asking them to limit how Ohio prosecutes nonviolent drug charges.
Proponents and opponents of the would-be constitutional amendment disagreed on how it would play out in practice and sought to influence the Ohio Ballot Board. The bipartisan panel, chaired by Republican Secretary of State Jon Husted, ultimately settled on language that passed by a vote of 4-1.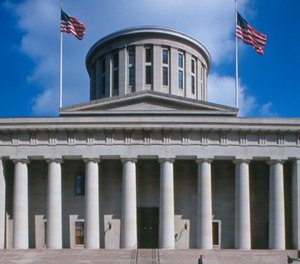 Issue 1, the sole statewide question on the Nov. 6 ballot, will ask voters to reduce penalties for such drug offenses and steer any financial savings — realized from not sending offenders to state prison — to treatment and crime victims' programs.
Under the Neighborhood Safety, Drug Treatment, and Rehabilitation Amendment, these crimes could not be prosecuted as anything more than a misdemeanor, essentially taking state prison time off the table.
The language would not apply to more serious drug crimes classified as felonies of the first, second, and third degrees, nor to trafficking cases charged as fourth or fifth-degree felonies.
State Rep. Kathleen Clyde (D., Kent), the sole negative vote, said she found the approved language to be "overly inflammatory" and inaccurate, designed to elicit "no" votes on Election Day.
"We really should keep those efforts to the campaign and to communication to voters from the 'yes' and 'no' sides, not in the very ballot language itself," she said after the vote. Ms. Clyde, a candidate for Ohio secretary of state on the same ballot, wouldn't say what she personally thinks of the question.
Voters will see the following when they look at their ballots regarding Issue 1:
If adopted, the amendment would:
Require sentence reductions of incarcerated individuals, except individuals incarcerated for murder, rape, or child molestation, by up to 25 percent if the individual participates in rehabilitative, work, or educational programming.
Mandate that criminal offenses of obtaining, possessing, or using any drugs such as fentanyl, heroin, methamphetamine, cocaine, LSD, and other controlled substances cannot be classified as a felony, but only as a misdemeanor.
Prohibit jail time as a sentence for obtaining, possessing, or using such drugs until an individual's third offense within 24 months.
Allow an individual convicted of obtaining, possessing, or using any such drug prior to the effective date of the amendment to ask a court to reduce the conviction to a misdemeanor, regardless of whether the individual has completed the sentence.
Require any available funding, based on projected savings, to be applied to state-administered rehabilitation programs and crime victim funds.
Require a graduated series of responses such as community service, drug treatment, or jail time for minor, noncriminal probation violations.
Don McTigue, attorney for the backers of the amendment, questioned the accuracy of the summary of some of the language. He pointed to the board's decision to specifically mention five drugs that could be affected — fentanyl, heroin, methamphetamine, cocaine, and LSD.
"This is clearly a cherry-picked list. ... This cherry picking is in here, I think, obviously to try to influence how people vote on this," he said.
Former Ohio Supreme Court Justice Paul Pfeifer, now executive director of the Ohio Judicial Conference, said the seriousness of the ballot issue made the board's duty to present a clear explanation to voters that much more important.
"The actual working of this will absolutely handcuff the judiciary in dealing with people who don't do what they're directed to do. ... Judges use the possibility of treatment in lieu of conviction all the time.
"How do you get an addict to treatment if you don't have the ability to say, 'Mr. Jones, Mrs. Smith, today you have choices. We can send you to prison. We can put you in jail, or you can go into drug treatment'?" he asked. "There are not very many people who are addicted to these serious drugs who will voluntarily go into drug treatment."
In addition to downgrading the classification of future drug possession charges, the amendment would allow those previously convicted of these crimes to petition courts to have their own convictions downgraded, potentially leading to their release from prison.
Inmates would also receive credit against their sentences for participation in rehabilitation, education, or work programs while behind bars.
The effort has received much of its financial support from the Chan Zuckerberg Initiative, an organization founded by Facebook's Mark Zuckerberg and his wife, Priscilla Chan, and George Soros' Open Society Policy Center in Washington.
McClatchy-Tribune News Service