Video: Wis. inmate's poem on addiction wins jail's creative writing contest
"This is the talk all over the jail. Writing heals people," said Jeremy Duncan
---
By Jonah Beleckis
The Janesville Gazette
        
JANESVILLE, Wis. — Jeremey Duncan is sick, but writing is healing.
Thirty years' worth of addiction, mostly to heroin and cocaine, have led the 43-year-old Beloit man to the Rock County Jail.
"They told me once in treatment that I was addicted to 'more,'" he said. "Doesn't matter what it is, I just wanted some 'more.'"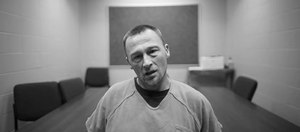 Writing, he said, lets him create something new. It's productive.
Amy Evans, a treatment and reentry social worker at the jail, knows writing is a "positive activity." It can be therapeutic, especially while the jail doesn't have a real recreation space.
So, she and her colleague Verenice Sandoval spearheaded an effort to bring a creative writing contest to the broader jail population in the last several weeks.
Duncan, using a poem called "The Door" that he wrote from another jail cell about 20 years ago, won the first contest with his May submission. The prompt was: Write about what you're thankful for, and Duncan's piece is about how his addiction brought him to the verge of death but God gave him a way out.
He praised the creative writing contest as a way to get inmates involved in "things that they never would have gotten involved in without these two people presenting this possibility for them."
"This is (the) talk all over the jail," he said of the writing contest. "Writing heals people. People that are broken need to start somewhere. You have to start to recreate your life. It's easiest to do with a pencil."
Wearing orange and with the word "poet" tattooed across the top of his left hand, Duncan last week recited the piece, which he's able to do from memory. The power of the poem comes through most when he shares it verbally—with his rhythm, his emphasis, his voice.
The piece is about life, death, faith and second chances.
And it won him pizza and wings from the sheriff.
"How was that? Fantastic," he said. "You know how often it is I get something paid for by the sheriff?"
Sheriff Troy Knudson said he would have been impressed if the first contest received five entries. Instead, Evans said they got 15.
"Among the submissions was some truly unbelievable writing that really would open most people's eyes as to the untapped potential that some inmates have," Knudson wrote in an email.
Evans got the idea from a client she was transporting last summer. They first tested it in RECAP, which stands for Rock County Education and Criminal Addictions Program, before expanding it to the rest of the jail.
The submission deadline for the second contest passed last week. The prompt was rewriting a fairytale.
Evans said she's been in social work for more than 20 years, so nothing surprises her. Still, some of the submissions were so touching they gave her goosebumps.
Writing is healing, but that doesn't mean it heals the writer.
Recovery isn't linear.
Duncan says he feels he's at rock bottom every night in his cell. His despair is not for only himself but primarily for his 20-year-old son, who is addicted to heroin.
"I lay in my cell at night, and I listen to the officers walk through—thinking they're going to slow down by my door and tell me that he's dead," said Duncan, who himself has been trying to recover from drug addiction since he was 18.
June 1, 2017 — a date Duncan recalls as easily as he does "The Door" — was when he overdosed for the first time. Over the last five years, he said he knows more than 20 people who have died from heroin overdoses, including "one just last week."
It's all "far too close to home."
"All I felt, all I understood was black — the deepest, darkest black. So black, so heavy that it pressed against my skin," he said of overdosing. "And I imagine my son having that for the rest of his eternity, and that's scary."
He said it's hard to describe his worry. He feels guilty, he said, for not being a better father. That feeling, and all that he put his family through over the years, is enough for him to never want to use heroin again, he said.
Duncan still talks with his son. The last time he heard his voice, Duncan said he was relieved to hear his son sounding like himself. He said that's something he can perceive in the voice of an addict.
"I'm hopeful today," Duncan said. "But 30 years' worth of dealing with this I know that being hopeful today doesn't mean anything tonight."
"He's smarter than I am though, so he'll be alright."
     
(c)2021 The Janesville Gazette (Janesville, Wis.)
McClatchy-Tribune News Service