Why Narcan is essential in correctional facilities
In court, would you able to prove you took all possible measures to prevent an overdose death?
---
By Robert Schermer, RN, C1 Contributor
An inmate comes into your facility with no apparent medical or psychological limitations. The booking process is completed. What you are not aware of is that to avoid detection, the said arrestee just consumed a significant dose of opioids. As the inmate becomes lethargic, is your staff educated on what to look for? Do they know the signs of drug overdose?
The rate of opioid-related deaths continues to climb yearly. Methadone clinics seemingly pop up overnight to assist with treatment. Vivitrol is offered in many locales to inmates upon release from custody. Legislation to limit opiate prescriptions continues to find its way into medical practices.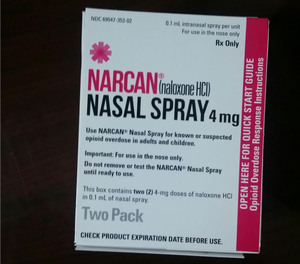 Are these measures effective?
Are the safeguards to prevent possession and public education on the dangers of opiates legal or otherwise enough to protect your facility in the event of an inmate drug overdose?
In court, would you able to prove you took all possible measures to prevent an overdose death?
Narcan programs in action
At the facility where I work, nasal Narcan is available free of charge through a partnership that involves coordination with all local law enforcement agencies to offer Narcan and opiate overdose education. We teach the signs and symptoms of opioid overdose and provide recommendations on the use and documentation of Narcan. Any time Narcan is used in the field on a suspect now in custody, officers are requested to advise me that Narcan was used, if it was effective and the number of doses that were delivered.
Narcan can benefit COs
How many of your staff do cell searches for contraband? Do you have incoming mail? Could your road officers encounter opiates, heroin, fentanyl, or carfentanil? If you answered yes to any of these questions, you should have Narcan available for your staff's protection.
My recommendation to officers at risk for direct exposure to opiates in any form is to always carry a Narcan nasal spray in their vest pockets. Officers exposed to synthetic opiates are at an extreme risk for adverse effects. Having Narcan on their person will greatly improve the outcome. Again, educate your staff on the symptoms.
Narcan training, policy needs
The agency we received our Narcan from provided training free of charge.
Staff are taught that in the event of a suspected overdose individuals are to be given Narcan and EMS immediately notified. Suspected overdoses are then provided medical care until EMS arrives. Having a Narcan use protocol in place protects your staff. Being able to show that all measures were taken to protect life not only will reflect much more positively in court, but also in the media.
There are many programs available. Reaching out to community agencies to develop a coordinated program helps establish rapport while providing yet another safeguard for staff, public and inmate safety.
---
About the author
Robert Schermer, RN, is a nursing supervisor at the Graham County Adult Detention in Safford, Arizona.