Mich. inmates serving life sentences graduate college under first-of-its-kind program
The grant-funded collaboration between Calvin University and MDOC aims to improve prison culture, reduce recidivism
---
By David Jesse
Detroit Free Press
        
GRAND RAPIDS, Mich. – His tassel draped correctly from his cap and his graduation robe carefully arranged so just the top of his maroon and gold tie showed, Michael Duthler extended his fist toward Bill Corner for one last fist bump. "You look like a college graduate," Corner said.
Nearly three decades earlier, the two men's paths crossed. Corner, then with the Grand Rapids Police Department and now the director of campus safety, was involved in the stakeout of a couple of places police expected to find Duthler, who was wanted in connection with the murder of one of his running mates in a loose gang.
Duthler was eventually arrested and pleaded guilty to second-degree murder — a conviction that came with a life sentence, with the possibility of parole. It was also the start of a journey that found Duthler standing on the stage at Calvin University's commencement ceremony Saturday, reading Scripture before receiving his Bachelor of Arts degree, part of the inaugural bachelor degree class of the Calvin Prison Initiative.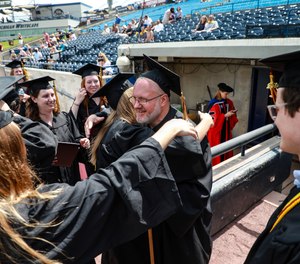 He was one of 28 graduates in the 2020 and 2021 classes granted degrees on Saturday. While a few, like Duthler, are out on parole, the majority of students are still in prison, many serving life sentences. The degrees handed out Saturday are believed to be the first bachelor's degrees in the state granted to students who studied in prison.
After a bottleneck in the recessional was created by a pile of students stopping to hug Duthler, now 48, as they walked past, he looked at the diploma he was holding in his hands.
He had always doubted himself, still had internal discussions about whether he could make it, he said.
"This is always what I am going to point at" when those doubts arise in the future.
Then his thoughts turned again. "I was thinking about the guys inside who can't have this day, at least not yet."
The path to graduation
In the early 1990s, Duthler was involved in what he calls a small gang — although there was no formal structure to it like other gangs. He was involved in the murder of one of the members of the gang and arrested. On Nov. 5, 1992, after he accepted a plea deal and pleaded guilty to a second-degree murder and a felony firearms charge, he was sentenced to life, with a possibility of parole.
Over the next couple of decades, Duthler moved around the Michigan prison system, like most prisoners do. He learned various vocational trades. Worked as a clerk. Learned to interpret for deaf inmates and taught himself Spanish so he could help inmates who didn't read English.
He also took every possible unaccredited, noncredit class offered in whatever prison he was in, whether it was a poetry class or a literature class.
Then in 2014, he almost had a chance to go home on parole. At the time, he was thinking about going into something in the building trades when he was released. Because of a disability — he walks with a cane now — he was thinking of working in finish carpentry and then heading into religious ministry. But he didn't get out.
Then, he heard about the Calvin Prison Initiative.
In 2015, Calvin University, Calvin Theological Seminary and the Michigan Department of Corrections formed the CPI, a first-of-its-kind program in the state of Michigan that provides inmates with a chance to earn a bachelor's degree from Calvin University, even while in prison. The goal of the program, which is funded entirely by private donations and grants, is to improve prison culture and curb recidivism rates by equipping prisoners with an education.
Each year, 20 students are selected and enrolled in the five-year program, through which they earn a bachelor's degree. They complete the core requirements for adult learners and major in faith and community leadership. The CPI students take the same classes as those at Calvin's main Grand Rapids campus, such as "Oral Rhetoric" and "Fundamental Questions in Philosophy," along with ones specifically oriented toward faith and community leadership, such as "Christian Formation, Practice of Discipleship" and "Foundations for Pastoral Care."
Duthler was unsure about applying to the program.
"I didn't think I was smart enough," he said. "I was a Grand Rapids native. I knew about Calvin. I knew they had high rigor.
"One of my friends said, 'You've been doing all these other classes, getting As, you can do this.' "
Duthler was also worried about how those accepted into the program would be treated by other inmates.
"I didn't know if I could spend five years looking over my shoulder for some dude jealous I'm getting an education and they aren't."
He ended up applying and was accepted. He was housed at Richard A. Handlon Correctional Facility in a section dedicated to the CPI. His cellmate was in the program as well.
The students took classes and even had access to laptops to write papers and do research, something unheard of in the prison.
"In prison, you're a non-person — a number," Duthler said. That wasn't the case when he was in class. "To have someone greet you by name, that was amazing. They don't reduce you to the worst thing you've done."
Armondo Benavidez, also a 2020 graduate, echoed that sentiment.
"It's given me hope that I can be more than my worst mistakes," he said in a release from Calvin. "Even in a hopeless environment, I now have the tools to help reroute the downward spiral that hopeless prisoners tend to get pulled into."
Duthler was paroled on May 22, 2018, and started attending classes on Calvin's main campus. He also worked in the CPI office. He finished in the spring of 2020, but, like all other members of that graduating class, had in-person ceremonies taken away by COVID-19.
On Saturday, Calvin scheduled two in-person ceremonies — one for the class of 2020 and one for the class of 2021 — at the home ballpark for the West Michigan Whitecaps, a minor league baseball affiliate of the Detroit Tigers.
The ceremony
About a half-hour before the start of the ceremony, Duthler sat out of the sun in the visitors' dugout along the first baseline. Because he would be reading the Bible selection during the ceremony, he sat with the rest of the platform party, including the school's board and highest administrators.
After applying some sunscreen, Duthler took a selfie with the field behind him, set for the coming graduation with chairs in the infield and a large stage at about where second base would be.
As various college administrators and staff walked through the dugout, he exchanged greetings, often pointing out where his mom was sitting in the stands, under some shade on what turned into a sunny, sticky hot day.
With everyone in their place to begin, the large video screen played a video of Calvin musicians singing a song of blessing. Duthler sat on a bench, his cane next to him, singing along.
Then, the ceremony — Calvin's 100th baccalaureate ceremony and the first with the word "university" on the diploma instead of "college" — began, and Duthler joined the line of dignitaries waiting to go out on the field.
The platform party was announced over the ballpark's public address system like they were a baseball lineup. Duthler was introduced as batting fifth and exchanged fist bumps with the others as he took his place along the first base foul line.
The ceremony then proceeded, including Duthler reciting John 9:1-5, the story of Jesus healing a blind man.
The main speaker for the day, William Robinson, the president emeritus of Whitworth University, followed Duthler and noted the specialness of the day.
"Forty years ago, I would go into prisons on the weekends to do seminars for Prison Fellowship," he said. "It was probably my third or fourth weekend when I finally figured out what was going on. While I was in there, I realized what Jesus meant by his words, 'when I was in prison, you visited me.' And that's when I realized I wasn't bringing Jesus into prison, I was going into prison to find Jesus. So Michael, thank you for bringing Jesus to Calvin University."
When all the speeches were done, students strode across the front of the platform to get their degrees as their names were announced. After 12 minutes, all were done.
Well, all except one.
Calvin President Michael Le Roy stood at the podium, took a breath and announced "Michael Duthler."
A smile on his face, Duthler walked to the front, accompanied by applause from the crowd. He got his degree and gave a slight bow as he headed back to his seat.
Then, in a blur, it was over. Duthler had his bachelor's of social work, something he is using in his job at Fresh Coast Alliance, a group working on reentry and recovery.
"Instead of being an agent of destruction, which I very much was when I was 19 years old, I am now striving every day to be an agent of renewal," he told the Free Press a couple of days before the ceremony. "I am more than my past. I am more than my worst mistake. You can't help but want to pay it forward."

©2021 www.freep.com.
McClatchy-Tribune News Service