Jet ski escapee, accomplices captured by U.S. Marshals in W.Va.
Samuel Paul Hartman, 39, a convicted rapist escaped an Arkansas prison work detail last year with the alleged help of his mom and wife
---
Associated Press
LEWISBURG, W.Va. — A convicted rapist who authorities say used a jet ski during an escape from an Arkansas prison last year was arrested Tuesday in West Virginia, the U.S. Marshals Service said.
Samuel Paul Hartman, 39, was arrested along with his wife, his mother and his mother's boyfriend at a hotel in Lewisburg, the Marshals Service said in a news release.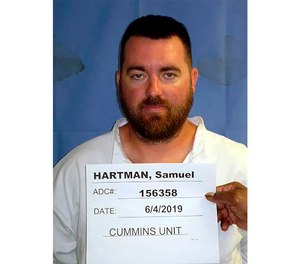 The women are accused of helping Hartman escape in August 2022 from the East Arkansas Regional Unit in Brickeys, 96 miles (155 kilometers) east of Little Rock.
Hartman was on a work detail in a field near the detention facility when a pickup truck with the women inside approached. Several gunshots were fired at a corrections officer from the waiting vehicle as Hartman ran to it. The vehicle fled to two jet skis staged near the Mississippi River not far from the prison, the statement said.
Police have said the abandoned jet skis were found on the Mississippi side of the river and that a witness reported seeing one man and two women riding them.
Investigators later determined that Hartman's mother had ties to West Virginia. Making the arrests Tuesday were U.S. marshals and officers with the West Virginia State Police, the Lewisburg Police Department and the Greenbrier County Sheriff's Office.
Arrested along with Hartman were his wife, 39-year-old Misty Hartman, his mother, Linda Annette White, 61, and Rodney Trent, 52, identified by the Marshals Service as White's boyfriend.
Trent faces felony charges of harboring a sex offender and of assisting Hartman and the two women, the Marshals Service said. The service did not say what charges Misty Hartman and White would face.
An Arkansas Department of Corrections spokeswoman said she expected the suspects to be extradited to Arkansas as soon as possible.
Hartman, 39, was sentenced to life in prison in 2013 for a rape conviction out of Franklin County, Arkansas.