Joyce Mitchell: 'I wish I would have done the right thing'
A just-released transcript from a parole hearing offers a glimpse into her rationalizations for helping inmates escape
---
By Mike Goodwin
Times Union, Albany, N.Y.
BEDFORD HILLS, NY — It was a simple gesture: a raised fist.
And Joyce Mitchell knew exactly what it meant. Killers Richard Matt and David Sweat were ready to escape from Clinton Correctional Facility. The hand Matt held over his head on June 6, 2015, was the sign the two men would execute their plan that night.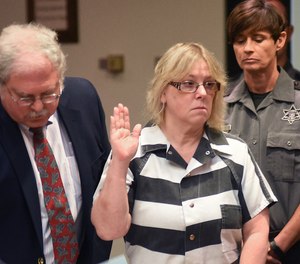 Mitchell already had supplied the men with smuggled hacksaw blades and other items they used to cut their way out. She only had one task left: wait for the men in her Jeep when they climbed out of a manhole just outside the prison wall.
"But I will tell you right from the beginning I had no intention of ever showing up,"  Mitchell said at her June 4 parole hearing at the women's prison in Bedford Hills.
Mitchell told the board her chest tightened as she drove home from her job at the Dannemora prison. Her husband thought she was having a heart attack. She was in a hospital bed the next morning as investigators were trying to reach her — and other prison workers — to figure out how Sweat, a cop killer, and Matt, a double murderer who used his hands to snap one victim's neck, broke out of the prison.
As it had two years earlier, the parole board rejected Mitchell's bid for release, a decision the state corrections officials announced last month. Her next hearing is scheduled for 2021, a year before the end of her 2 1/3-to-7-year sentence for helping the men escape.
A just-released transcript from the parole hearing offers a glimpse into Mitchell's rationalizations for helping the men, the ways she's spent her time in prison, and the parole board's belief that "there is a reasonable probability" she would break the law again.
"Release at this time would be incompatible with the welfare of society," the board wrote in an addendum attached to the transcript.
Matt, 48, and Sweat, now 39, remained free for three weeks. A U.S. Border Patrol agent shot and killed Matt on June 26, 2015, in Malone. Sweat was shot and captured by State Police two days later.
As she has done before, Mitchell denied having sexual contact with either man. Her relationship with the men was fodder for tabloid newspapers and fueled some of the drama in the Emmy-nominated Showtime series about the case, "Escape at Dannemora," in which Mitchell was portrayed by Patricia Arquette.
Mitchell said she was taken in by compliments the men gave her while they worked in the prison's tailor shop. Before the escape, the two men lived in privileged prison housing reserved for inmates with good behavior.
Mitchell told the parole board she was easy prey for the prisoners because of a troubled relationship with her mother and the pain of an abusive marriage to her ex-husband.
She said the men told her she was "a beautiful woman. 'You should be treated better.' And just they would say things that I guess was what was going on in my mind because of my low self-esteem and, you know, things."
She said Matt eventually tried to force her to perform oral sex on him, and turned menacing in other ways.
"I know they stated that I had sex with them but I never had sex with either one of them," she told the board. " ... Inmate Matt literally threatened to kill my husband and go after my son and brother also."
Mitchell, now 55, said she's earned a general education diploma and an associate degree in prison.
She explained to the parole board that Matt and Sweat told her about their progress as they slowly cut their way out of the prison night after night.
"No one will ever know how wrong I was. I don't even know how to put it in words. I will never be able to take back what I did," she said. "This is something that's going to live with me for the rest of my life. I will take this to my grave. ... I can't take it back."
"I wish I would have done the right thing."
©2019 the Times Union (Albany, N.Y.)
McClatchy-Tribune News Service