More details emerge in deadly NC prison escape attempt
Killed were CO Justin Smith and vocational worker Veronica Darden
---
By Emery P. Dalesio
Associated Press
RALEIGH, N.C. — Inmates at a North Carolina prison plotted an escape bid knowing they would have to hurt some prison employees, their disturbance ultimately leaving two workers dead and a dozen other workers or fellow inmates injured, authorities said Friday.
Investigators believe four inmates planned the foiled breakout Thursday afternoon from Pasquotank Correctional Institution in Elizabeth City by starting a fire inside a prison sewing plant to divert guards, then running toward an exterior fence, Pasquotank County Sheriff Randy Cartwright said.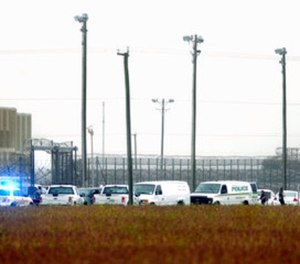 "We're fairly comfortable that at least four had a plan to attempt this escape and knew to do that some people were going to get harmed," Cartwright said in an interview.
Stabbing or slashing wounds predominated among the injured, and people were attacked at several spots along the attempted escape route, Cartwright said. Some may have suffered smoke inhalation, but the fire caused no serious burns and none of the injured had gunshot wounds, according to the sheriff.
Four inmates were among the injured. They are the main suspects in the escape plot, deputy state prisons director Annie Harvey said. All four were transferred to a high-security prison near Raleigh, she said.
Killed were prison guard Justin Smith, 35, and vocational worker Veronica Darden, 50. Autopsies are planned next week and authorities haven't elaborated on how they died. Smith was a correctional officer at the prison's sewing plant, where Darden trained about 30 inmates making safety vests and other items, authorities said.
Correction Officer Wendy Shannon and mechanic Geoffrey Howe were in critical condition Friday and Correction Officer George Midgette in fair condition at Sentara Norfolk General Hospital in Norfolk, Virginia, state prison officials said. Eleven others injured were treated and discharged from a hospital in Elizabeth City, hospital spokesman Peter Sengenberger said via email.
State prisons spokesman Keith Acree said none of the 725 inmates escaped. Cartwright said one inmate got as far as a barbed-wire fence around the prison, but got snagged and surrendered as armed guards approached.
The head of the state's chief state employee union said North Carolina prisons are understaffed, guards and other employees are attacked regularly and legislators should reverse dangerous conditions by hiring more officers.
In April, a female guard was killed while trying to put out a trash can fire in a dormitory at Bertie Correctional Institution, about 50 miles (80 kilometers) west of the Elizabeth City prison. Authorities said a male inmate wrestled the fire extinguisher away and beat the guard to death.
"Correctional officers' safety issues have been ignored despite an assault every eight hours and we pray someone in power will finally care enough to do something," said State Employees Association of North Carolina President Stanley Drewery, a former corrections officer. "It's past time for the state to give these heroes the resources, training and manpower to ensure that they return home safely."
Gov. Roy Cooper offered his condolences for the workers killed and ordered state flags lowered Friday to half-staff for three days. He also directed prison officials to take added safety measures including suspending the inmate work program at Pasquotank prison, increasing officers in areas where inmates work, and ordering a safety review of all inmate work programs.
"We know our prisons must be made more secure, including for those who work there," Cooper said in a statement Friday.
Darden worked as a guard for one year before assuming her role with Correction Enterprises, the state prison system's work program for inmates. The program involves almost 2,300 of the state's nearly 38,000 inmates in giving them marketable job skills in behind-bars businesses such as pressing license plates, washing clothes for customers including U.S. Veterans Affairs hospitals and growing and packaging vegetables.
The prison near the northeast North Carolina coast houses adult, male felons in both high-security and minimum-custody buildings. Minimum-security prisoners work outside on road gangs and other community labor. In April, an argument between two inmates led to one prisoner stabbing and wounding another. Two months earlier, a guard was charged with trying to smuggle illegal drugs, phones and cigarettes into the prison.