'Subject is in custody': How an escaped murderer was captured in Penn.
Difficult terrain and unseasonably warm weather made it challenging to find Danilo Cavalcante, even though he never left the county during 2 weeks on the run
---
By Vinny Vella and William Bender
The Philadelphia Inquirer
PHILADELPHIA — The call came over police radio at 8:18 on Wednesday morning, and the people of Chester County breathed a collective sigh of relief.
"The radio room, Chester County government, and various other agencies working on the prisoner escape are proud to announce the subject is in custody," the dispatcher said in a calm, even voice. "Repeating: The subject is in custody."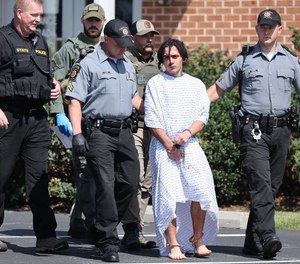 As those words crackled, Danilo Cavalcante was finally handcuffed. An armored vehicle was driving him to a Pennsylvania State Police barracks for questioning on how, exactly, he had been able to outrun and outmaneuver hundreds of trained local, state and federal law enforcement officers for two harrowing weeks.
The 34-year-old Brazilian, convicted of murdering his ex-girlfriend in front of her two young children, was surprisingly forthcoming. His tale of surviving on watermelon, creek water and stealth was simple and straightforward. But the attempts to find him in the previous two weeks had been anything but.
Law enforcement was repeatedly stifled by factors unique to searching for a fugitive in the rolling hills, lush meadows, and verdant forests of Chester County. Unseasonably warm weather — with temperatures spiking in the high 90s some days — exhausted officers loaded down with tactical gear.
The terrain was an obstacle course, with ravines and greenery so thick that some locals said they can stand in parts of the forest and never see the sun. Unlocked sheds and outbuildings on expanses of private property offered perfect places for Cavalcante to bed down during daylight.
Still, Pennsylvania State Police Lt. Col. George Bivens repeatedly told reporters he was confident Cavalcante would be captured.
"He's a bad guy, he needs to be in custody, and we're determined to capture him," said Bivens on Sept. 5, during one of many daily briefings he would give. "I'm confident he will slip up. We're making him move, and that's a good thing."
Experts say there are few useful metrics for evaluating a manhunt. Each operation is different. Data on escapes is limited.
But Bryce Peterson, an expert on corrections and policing at the CNA research group in Arlington, Virginia, said Cavalcante's escape was, in some ways, the worst-case scenario: A murderer with no chance of parole is "extremely motivated."
Violence occurs in fewer than 20% of escapes, research shows. But the stakes rose steeply when Cavalcante got hold of a Ruger .22 rifle with a scope.
"When it does occur, these are the types of situations where you'd expect there to be violence," said Peterson, who wrote his doctoral dissertation on prisoner escapes. Inmates are almost always recaptured when they break out of prison, and often within 24 hours or less, Peterson said. The longer they are on the run, the harder they are to catch. A 14-day manhunt is unusual.
A killer escapes
Cavalcante had escaped Aug. 31 from the Chester County Prison, using his 5-foot, 120-pound frame to crabwalk up a narrow wall in an exercise yard. He had been locked up there since 2021, when he stabbed to death his ex-girlfriend, Deborah Brandao.
He killed her, prosecutors said at trial, because Brandao had threatened to turn Cavalcante in to police, exposing that he was in the country illegally and was wanted for murder back home in Brazil. Cavalcante's escape from Chester County Prison came a week after he was convicted of first-degree murder and sentenced to life in prison.
Another inmate, Igor Bolte, had used the same method to escape the facility in May. And while prison officials declined to say whether the two men knew each other, a source inside the facility said they were housed on the same block at the time of Bolte's escape.
Regardless, Cavalcante was discovered missing just before 9 a.m. on Aug. 31, according to Howard Holland, the acting warden. A half-hour later, a prison employee spotted him walking south on Wawaset Road. It would be the last time authorities would catch sight of him for nearly two days.
Meanwhile, state police troopers from local barracks and U.S. Marshals had joined the search, providing aerial support with helicopters and drones. Officials announced a $10,000 reward. Tips began to flow.
On the night of Sept. 1, someone had attempted to break into a home on Ballintree Lane, 2 miles from the prison, officials said. Also that night, a surveillance camera from a home one mile farther south recorded a brief clip of the fugitive slinking by.
By then, Cavalcante had picked up a backpack that contained a razor.
Though no one knew it at the time, Cavalcante was living off watermelons stolen from a garden shortly after his escape and drinking creek water to stave off the heat. In the early days of the search, he barely moved at all, choosing to do so only at night, traveling along creek beds and well-worn footpaths cut out of the vegetation for power lines and gas lines.
District Attorney Deborah Ryan urged residents to be vigilant, especially given the long Labor Day weekend.
"We are requesting that residents in the area of Pocopson Township remain inside, lock your doors, lock your cars," she said. "He is still considered an extremely dangerous individual."
Following that advice, U.S. Marshal Supervisory Deputy Robert Clark cautioned nearby residents, or else risk inadvertently helping Cavalcante.
"The very last thing we want to see, besides someone getting hurt, is him to get into somebody's house, getting a set of car keys, and then it's off to the races," Clark said.
Over the holiday weekend, investigators continued their search with little new information. They focused their efforts on a heavily wooded area in Pocopson Township of about 270 homes, knocking on doors and stopping cars. The reward for information about Cavalcante would double.
Covering his tracks
On Monday Sept. 4, Labor Day, state police officially took over, and set up a makeshift command center at the Po-Mar-Lin Fire Company, in Unionville. Bivens was placed in charge, and flooded the area with dozens of troopers from across Pennsylvania, many of whom he said were eager for the assignment.
Bivens, a 38-year veteran, has a history of outlasting men on the run: He led the successful, 48-day search in the Poconos for Eric Frein, a Monroe County man who'd ambushed two troopers in Blooming Grove in 2014, killing one of them. Just two months before Cavalcante's escape, Bivens had overseen the capture of Michael Charles Burham, who climbed down from a rooftop exercise yard in Bradford County Prison on a rope formed from bedsheets. Burham was arrested after eight days.
Late that holiday night, Cavalcante was recorded by trail cameras at the 1,083-acre Longwood Gardens. Cavalcante had traveled an additional 2 miles undetected, and was apparently using the thick woods around the botanical gardens to cover his tracks.
Authorities set an extended perimeter around Longwood. Several nearby school districts closed, as a precaution. Overhead helicopters became a constant soundtrack for the days and nights in communities around Kennett Square.
Residents expressed concern that the search area had shifted nearly 4 miles from the prison, closer to a relatively more-populated part of the county.
"I was completely confident that things wouldn't come this way," Aaron George, 28, said Sept. 6 as he was walking his dog, Athena, a few miles from Longwood. "When my fiancee and I came back from Labor Day weekend, we saw the officers had blocked off roads around here. It's hard to imagine this is all happening in little Kennett Square."
Agents from the FBI and U.S. Border Patrol joined the search, bringing more advanced technology and tactics, including night vision and thermal imaging, as well as specialized satellite communication. The daily patrols now included tactical dogs and horse-mounted officers.
Cavalcante's pursuers got help from his mother, Iracema: They had her record a message in Portuguese begging him to surrender, and blared it from helicopter-mounted speakers over the eight-square-mile perimeter.
In the final days of the week after Labor Day, Cavalcante was spotted at least four times, including another appearance on a trail camera the night of Sept. 6 that wasn't discovered until nearly 24 hours later, causing a rush of activity in the area where he had been walking.
By Sept. 8, upward of 400 officers had joined the hunt.
Cavalcante began covering his feces with grass and leaves, and did his own surveillance of his pursuers, taking note of where they patrolled. Their increased numbers rattled him, he later told police.
Luck and the terrain were on his side. At least three times, he said, officers came within 7 or 8 yards of where he had been hiding as they cut through the brush.
More close calls
Late on Sept. 8, investigators believed they had cornered Cavalcante near a construction site at Longwood. State police helicopters hung low over a grove of trees. SWAT teams surrounded a building. Throngs of residents joined reporters standing watch.
But again the search came up empty.
Lenny DePaul, a former U.S. Marshals commander who was in touch with law enforcement officers working on the manhunt, said he understood the frustration in Chester County that set neighborhoods on edge.
The intense heat and humidity and the thick underbrush made the search unusually tough. Even a state police German shepherd, Loki, had to be taken to a veterinary hospital after falling ill from the heat.
"They were up against it," DePaul said. " … You never know. You could have a suicide by cop, he could have grabbed a hostage. I've seen it numerous ways."
On Sept. 10, Bivens revealed another surprising turn in the hunt. Cavalcante had escaped the perimeter, exploiting a gap to break for Bailys, a nearby dairy farm. There, he stole an unlocked van with keys left inside.
He drove nearly an hour north, then ran out of gas and abandoned the van in a cornfield in East Nantmeal Township. Along the way, he visited the homes of two former coworkers, speaking to one through the man's Ring doorbell camera. The man called police, but that information didn't reach Bivens' team for nearly two hours, and Cavalcante again slipped away.
Video from that camera showed Cavalcante had shaved off his beard. Somewhere he had gotten hold of fresh clothes.
As the search dragged on and coverage reached overseas, Bivens and his colleagues faced criticism. "I know this is an extremely stressful time for the community," he said. "We are doing everything possible to bring this to a successful resolution as quickly as possible."
Late the night of Sept. 11, the end of the hunt seemed as close as it ever had been. Cavalcante was spotted again, in East Nantmeal Township, and officers formed a new perimeter. Not long after, Cavalcante broke into a home on Coventryville Road and came "within feet" of its owner, Bivens would later say.
The homeowner, stunned at the sudden appearance of a man every resident in Chester County had learned to fear, drew a pistol from his hip and fired seven shots at close range. None hit Cavalcante, who in a panic grabbed a loaded rifle propped up against a garage wall and ran back into the woods without returning fire.
Cavalcante was more desperate than ever — and now, far more dangerous, Bivens said the next morning.
Tuesday, Sept. 12, passed by with few developments. But late that evening, a U.S. Drug Enforcement Agency drone picked up a heat signature in a wooded area of South Coventry Township. Police had been drawn to the vicinity by a residential burglar alarm.
A lightning storm grounded the drone, but the next morning, Wednesday, it found that heat source again. About 20 state troopers and Border Patrol agents quietly moved in, and surrounded Cavalcante in the woods behind Little's, a farm tractor dealership.
With them was Yoda, a 4-year-old Belgian Malinois, handled by Border Patrol officers from El Paso, Texas. When Cavalcante tried to flee, Yoda chased him down, bit the escaped murderer's scalp, then seized him by the right thigh. The officers swooped in and took him into custody at 8:14 a.m.
Cavalcante, investigators later said, told them he had planned on carjacking someone later that day and fleeing the area.
Instead, he was pulled, bloodied, from the brush where he had been hiding. By day's end Wednesday, Cavalcante was behind bars at the State Correctional Institution at Phoenix in Skippack Township, Montgomery County.
Cavalcante's flight from police spanned approximately 22 miles. But even after stealing a van, he had remained within the county's borders.
"I've seen escapes where someone gets out, and within a few days they're in another state," Peterson, the policing expert, said. "The fact that they were able to keep [Cavalcante] in a relatively contained area over a two-week period … that in itself could be an indicator of success."
Craig Caine, a retired inspector with the U.S. Marshals, said those who criticized police for not catching Cavalcante sooner probably didn't understand how difficult it is to sweep large swaths of dense forest in the summer.
"'They should have gotten him earlier.' Yeah? Get your ass in the woods wearing tactical gear in 100-degree heat and let me see what you could do," said Caine, who worked on a fugitive task force in New Jersey and New York.
He was irked to read that Cavalcante was able to take advantage of some residents' lack of vigilance — stealing a van with the keys in it, and walking into an open garage and grabbing a loaded rifle.
In hindsight, however, those incidents let police know Cavalcante's whereabouts.
Watching the events unfold, DePaul, the former U.S Marshals commander, thought of one of his favorite sayings:
"You can run, but you can't hide. When you run, you only go to jail tired," he said. "Or, in this case, go back to jail tired."
———
(NOTE: Court officials said Friday that Cavalcante has given different spellings of his first name. The Inquirer is now using Danilo, which matches his name on U.S. Department of Homeland Security filings.)
———
©2023 The Philadelphia Inquirer.
Visit inquirer.com.
Distributed by Tribune Content Agency, LLC.
McClatchy-Tribune News Service