'Violent' inmate mistakenly released from NM detention center
Officials said Duwin Perez-Cordova "utilized another inmate's identifiers" to "unlawfully" leave the jail
---
By Jessica Dyer
Albuquerque Journal, N.M.
ALBUQUERQUE, N.M. — An inmate accused in a December 2017 shooting was erroneously released in Downtown Albuquerque early Sunday morning after apparently posing as another inmate, according to court documents.
Duwin Perez-Cordova, 27, "utilized another inmate's identifiers" to "unlawfully" leave the Metropolitan Detention Center, according to a criminal complaint filed in state District Court. A jail spokeswoman says he boarded a bus before 2 a.m. Sunday. He was last seen at the jail's release point near Fourth Street and Roma NW.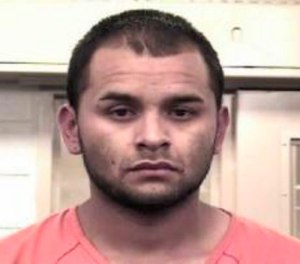 Jail staff realized the mistake about three hours later, the MDC spokeswoman said, and are asking for the public's help finding him.
"He is considered violent, and we're asking people to not approach him if they do see him," spokeswoman Candace Hopkins said.
Perez-Cordova had been in jail since December on a series of charges, including aggravated battery, stemming from a Dec. 9, 2017, shooting at a laundromat/carwash in Southwest Albuquerque that sent one man to the hospital with a gunshot wound to the face.
He has an extensive arrest history, and recently pleaded guilty to drug possession, possession of burglary tools and tampering with a motor vehicle in a 2016 case. Court documents show he faces nearly three years in that case. He is also facing numerous charges in a 2017 racketeering case, which has been appealed.
MDC said it has launched an internal investigation into exactly how Perez-Cordova made it out, but his cellmate told a guard that his own identification wristband was missing. Hopkins said that jail staff check the wristband along with photographs and other documents before releasing inmates.
She said she did not know if Perez-Cordova's cellmate had been scheduled for release.
"We need to look at how this happened and how we can change our practices and policies at MDC to make sure it doesn't happen," she said.
Hopkins said a felony escape from custody warrant had been issued and Bernalillo County sheriff's deputies were attempting to find him. Other law enforcement agencies had been notified.
Bernalillo County Sheriff's Office Chief Deputy Brian Lindley said MDC alerted the department to Perez-Cordova's release around 5:30 a.m. He said the office immediately began its search and started fielding tips even before MDC notified the public around 2 p.m. of his accidental release. Lindley declined to say if Perez-Cordova had family in the metro area or if the tips pointed to a certain area.
Authorities had previously arrested Perez-Cordova in the 400 block of Western Skies SE, according to a 2017 U.S. Marshals Service news release following last December's carwash shooting.
MDC last December accidentally released murder suspect Angel Celis in what it called a paperwork "hiccup," suggesting it received an incomplete file from the state Department of Corrections, which the state agency denied. Authorities apprehended Celis the same day.
Perez-Cordova has several tattoos, including a money sign, an Impala logo and "RIP Marcus." He uses multiple names, Hopkins said, including Gilbert or Gilberto Rodriguez, Duwin Perez and Duwin Cordova-Perez.
Anyone with information on Perez-Cordova's whereabouts is asked to call BCSO at 798-7000 or 911.
Journal staff writer Katy Barnitz contributed to this report.
©2018 the Albuquerque Journal (Albuquerque, N.M.)