Are we making PTSD epidemic in corrections?
As with many trends, PTSD awareness can spawn some misguided efforts that fail to fully address the issues
---
By JF Shults, C1 Contributor
A report from the National Institutes of Health (NIH) reveals that 89% of adults in the U.S. have experienced a traumatic event that rises to the level required to diagnose PTSD if associated with the other symptoms of the condition. This means that if you haven't experienced a traumatic event you are, by definition, not normal.
At any given time, an estimated 8% of the U.S. population is experiencing PTSD. Double that percentage for first responders, who, as cited in another NIH published study of police officers, experience an average of seven traumatic events in a year of service. A little bit of math tells us that not everyone who experiences trauma develops PTSD. In fact, studies of the World Trade Center attacks of 9/11 show that 76% of police responders to the event have low or no symptoms a dozen years after the tragedy.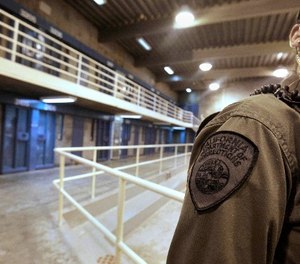 Can we talk ourselves into PTSD?
Somewhere between minimizing traumatic events as just part of the job on the one extreme and assuming everyone is going to suffer PTSD on the other, our profession may lose the balance between awareness of the risks of PTSD and the presumption of its inevitability.

Is it possible that we can talk ourselves into PTSD because it is expected? Are we at risk, after years of ignoring the reality of trauma among first responders, of orchestrating its inevitability?
I applaud any good faith effort to improve mental health and resilience for correctional officers, first responders and the general public as well. As with many trends, PTSD awareness can spawn some misguided efforts that fail to fully address the issues. Here are some things to keep in mind:
1. Corrections training on stress management is inadequate.
Psychoeducation is an important part of understanding positive mental health. A typical class on stress management reviews the physiology of stress and some tips on how to relax, along with tips on nutrition and exercise. That's great and should continue, but it can become just a block to be checked off and considered done. The education effort must be integrated into correctional officer training throughout the organization.
2. Critical incident stress debriefing in corrections may have little value.
Mental health professionals and researchers do not consistently recommend stress debriefing in the way it is frequently applied. Some research indicates it can even do more harm than good. Policies that provide ongoing care and evaluation can help officers disclose at their own pace, and learn skills to increase their awareness of delayed trauma responses.
3. It's biology, not emotion.
We consistently use the language of emotion to express symptoms of PTSD. We certainly can feel sad, angry and panicky, but to label the origins of those feelings and resulting behaviors as merely feelings (over which our grown-up selves should certainly have control), denies the biochemical function of the autonomic fight, flight or freeze mechanism. The question is not, "How does that make you feel?" but "What is making you feel?" The hurtful guilt that is so often felt by PTSD sufferers for their "lack of self-control" can be re-directed to useful therapy.
4. Don't expect everyone talking about PTSD to be an expert.
A little knowledge can be a dangerous thing. I have heard of more than one counselor demanding that trauma survivors feel certain things within certain time periods. The same abuse has occurred in those suffering from grief and loss. They are pressured to go through the seven stages of grief, in that order, with the appropriate intensity and time frame. We are not slaves of popular theories. We are not required to feel a certain way and, if we don't, we should not be accused of denying or suppressing our feelings.
5. Focus on resiliency and awareness.
There are many factors involved in our human susceptibility to PTSD:
Our proximity to a traumatic event;
The meaning that event has to us personally:
The timing of the event relative to other cumulative traumatic events;
Our physical health;
The support system we have pre-existing the event;
Other factors that may never be identified collide to create a change in the brain we know as PTSD.
Conclusion                                  
The best way to cope with the specter of PTSD is education, self-awareness with daily self-care, partnering with peers for mutual support and seeking professional help at the onset of troubling thoughts and behaviors.
---
About the author
Joel Shults operates Street Smart Training and is the founder of the National Center for Police Advocacy. He retired as Chief of Police in Colorado. Over his 30-year career in uniformed law enforcement and criminal justice education, Joel served in a variety of roles: academy instructor, police chaplain, deputy coroner, investigator, community relations officer, college professor and police chief, among others. Shults earned his doctorate in Educational Leadership and Policy Analysis from the University of Missouri, with a graduate degree in Public Services Administration and bachelors in Criminal Justice Administration from the University of Central Missouri. In addition to service with the U.S. Army military police and CID, Shults has done observational studies with over 50 police agencies across the country. He has served on a number of advisory and advocacy boards, including the Colorado POST curriculum committee, as a subject matter expert.
His latest book The Badge and the Brain is available at www.joelshults.com. 
Follow Joel on Twitter @ChiefShults.