As arrests increase, officials keep close eye on booming Wash. jail population
Operating at maximum capacity stresses jail operations and restricts the ability to separate certain inmates
---
By Phil Ferolito
Yakima Herald-Republic
YAKIMA COUNTY, Wash. — Over the past year, the Yakima County jail's local inmate population has risen by about 25 percent — a daily average of about 100 more local inmates are imprisoned at the jail this year over last.
That's due, at least in part, to a spike in arrests by local law enforcement related to drug, domestic violence and gang-related cases. As a result, the daily jail population of local inmates fluctuates from 500 to 550. In 2016, the jail housed 400 to 450 people arrested locally each day.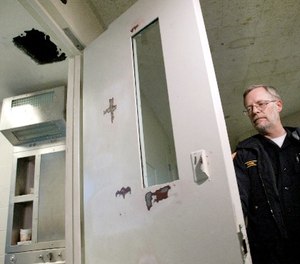 "We have seen it rise in the last year," said county Corrections Director Ed Campbell.
In addition to housing local inmates arrested by the Yakima Police Department, Yakima County Sheriff's Office and other law enforcement agencies countywide, the jail also has contracts worth millions of dollars to house another 450 or more inmates from several other communities. Revenue from those contracts accounts for nearly half of the Department of Corrections' annual $27.7 million budget.
But a rising local inmate population could threaten valuable space needed for those contracts, which could lead to budget complications.
The county's general fund — which is funded by taxpayers and largely pays for law and justice services — now devotes $13.4 million to corrections, but that amount could increase if the current trend with local inmates continues. The county could find itself supplementing more of the department's annual budget, Campbell said.
"With the increased local inmate population, I have less beds to sell," he said. "It is a concern of mine. We don't want to see our local population go up too much."
But Yakima County Commissioner Mike Leita said it's not time to worry about that possibility yet. He doesn't see any budgetary impacts involving corrections over the next two years.
"I would say that's not of immediate concern," he said. Leita and other county commissioners oversee the county's budget. "I'd say it's something that we're looking at and monitoring. We don't have a problem right now."
Ebbs and flows
Composed of a main facility downtown and an auxiliary jail on Pacific Avenue, the county jail has a maximum capacity of 1,200 inmates.
But operating at maximum capacity stresses jail operations and restricts the ability to separate certain inmates. For example, the jail tries to avoid housing members of opposing gangs together in an effort to prevent fights and other violence.
Campbell said the overall average daily inmate population — including local and contract prisoners — has grown from about 750 last year to more than 900 this year.
One recent day, the jail's total population was 1,029.
Campbell said while the jail's population is nearing a capacity threshold that's safe to operate, it's not there yet. And discerning how long before reaching such a threshold is uncertain, he said.
There are ebbs and flows in the criminal justice system, Campbell said.
"We've seen spikes in crime and reductions — it's difficult to make these assessments in a short time. But we're definitely seeing a spike. We're definitely watching it," he said.
Leita points to a time before the Pacific Avenue jail was built, when the downtown jail regularly housed about 1,100 inmates daily.
"We were racking and packing," he said.
But while local officials may have been confident in the face of a rising inmate population, some of the jail's contract customers weren't. Concerns about overcrowding drew ire from several law enforcement agencies in King County that were housing their inmates here under contract. As a result, the Pacific Avenue jail was built.
But construction delays on the Pacific Avenue facility resulted in the county losing several of the contracts worth millions of dollars from communities in King County. That loss sent Yakima County into a financial tailspin resulting in layoffs and a six-year closure of the facility.
The county has since secured new contracts to house inmates — most on an annual basis.
Leita said when the local inmate population goes beyond 600, budget adjustments then would be considered.
But for now, there's room for another 100 inmates at the jail before overcrowding becomes a concern, he said.
The jail has had some recent incidents concerning security and safety. In early April, two inmates being housed through a contract with Kootenai County, Idaho, escaped from the Pacific Avenue Jail. Both men were eventually captured.
And in May, inmate Moon Martin died at the jail of an allergic reaction to an unknown substance. Martin since was found to have had heroin in his system at the time of his death.
Neither incident was related to problems with staffing levels, Campbell said.
Faulty door locks at the Pacific Avenue jail were to blame for the escape. They've since been replaced, he said.
Drugs have long been a problem corrections officers battle on a daily basis, Campbell said.
The county jail has about 170 corrections officers, with another 10 positions left vacant through normal attrition, such as workers taking other jobs, Campbell said.
Officials are now processing 25 applications from people interested in those openings, he said.
"We've kept our hiring in line with the increases we've seen," Campbell said. "I feel like we're right on track, where we want to be."
'As many arrests as possible'
The cause behind the increase in local inmates is simple math: More arrests equate to more inmates. But the reasons behind those arrests vary and aren't as easy to define or track.
The largest law enforcement agency in the Valley, the Yakima Police Department, has seen the number of overall arrests steadily climb over the past three years. For example, the agency had 3,421 arrests last year compared to 2,481 in 2014, according to Washington Association of Sheriffs and Police Chiefs statistics.
Many of those arrests are related to gang activity and domestic violence, said Capt. Gary Jones. And concentrated efforts to address those issues are adding to the jail's local inmate population. For example, in late May, a multi-agency sweep focusing on finding wanted gang members netted five arrests and recovered two stolen guns.
"Certainly our pressure on gang violence, we're making as many arrests as possible, which includes aggravated assault," said Jones of what could be contributing to increased arrests.
Stiffer state statutes have broadened the definition of domestic violence to include not only people involved in romantic relationships, but also situations such as one family member verbally or physically assaulting another family member. That change is also behind increasing arrests in recent years, he said.
Yakima police have seen the annual number of incidents involving domestic violence — ranging from physical to verbal abuse, making threats and other crimes — grow by 26.5 percent, from 1,583 in 2014 to 2,003 last year, according to crime statistics.
In addition, the number of arrests in Yakima for violation of no-contact orders, which often but not always involve domestic violence, shot up by 55.9 percent, from 268 in 2014 to 418 last year, according to the statistics.
"We're under stringent requirements to make an arrest," Jones said.
The trend in local arrests partially mirrors what's happening across the country. Nationally, the number of violent crimes increased by 3.9 percent last year while the number of property crimes decreased by 2.6 percent, according to the latest report by the Federal Bureau of Investigations.
And Yakima isn't the only Washington county seeing increased arrests and jail populations.
For example, Benton County is experiencing similar arrest increases, and the local inmate population at its county jail has risen from about 294 to 326 inmates, said Capt. Josh Shelton.
On Friday morning, Benton County jail had a total of 591 inmates, still leaving plenty of breathing room at the 744-bed facility, Shelton said.
"We've got the room to house them," he said. "It just makes for a safer community."
———
©2017 Yakima Herald-Republic (Yakima, Wash.)