Proposal to further limit visitation in Fla. prisons draws critics
The changes are being considered because the current visitation program requires staffing that DOC has a difficult time meeting
---
By Cindy Swirko
The Gainesville Sun, Fla.
GAINESVILLE, Fla. — Jhody Polk was freed from prison in 2014 and is now outreach coordinator at the River Phoenix Center for Peacebuilding in Gainesville.
While she was incarcerated, visits from her mom and children helped her turn her life around and get where she is now, she said. That is why she is actively opposing proposed cuts to inmate visitations by the Florida Department of Corrections.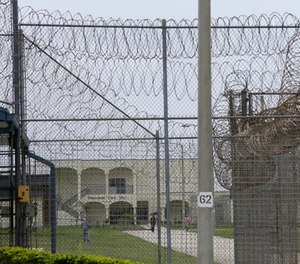 Polk spent time in Lowell Correctional in Marion County and at the privately-run Gadsden Correctional west of Tallahassee.
"Out of the seven years I did on that eight-year term, my mother was able to bring my children five or six times to see me. Every time they were able to come see me it gave me the life that I needed to get to get through the next two or three years," Polk said. "Even if it's one visit in the span of a woman's incarceration, it might be the exact visit she needs to be able to survive inside."
DOC, citing staffing shortages, is considering cuts to visitation. Inmates would be allowed visitors every other weekend instead of every weekend. That will reduce the number of visitors each weekend.
The changes are being considered because the current visitation program requires staffing that DOC has a difficult time meeting, particularly in trying to stem the flow of contraband into prisons, DOC spokeswoman Michelle Glady said.
A rule is being developed for the changes and a public hearing will be held in Tallahassee before the matter is decided. At an April 3 hearing on the proposal, many people spoke against the cuts.
"We know that contraband comes in from a variety of ways and we are looking at stopping it in every way that it is coming in," Glady said. "By having less visitors every weekend, you have more of a staff-to-visitor ratio. They can supervise visitation more thoroughly and do searches more quickly and thoroughly to get people in to see their loved ones."
Several opponents of the changes interviewed by The Sun said DOC is also planning to limit visits to two hours. Glady said two hours is the minimum amount of time that can be spent with a loved one and that visitation hours will continue to be 9 a.m. to 3 p.m. for most of the state and from 8 a.m. to 2 p.m. for Panhandle counties in the Central Time zone unless otherwise noted on the DOC website.
Citra resident Vivian Merchant traveled to Tallahassee for the April 3 public hearing to oppose the changes.
Her son Tommy is in Martin Correctional in Indiantown and she tries to visit as often as she can but getting to the Stuart area is not easy.
Merchant and other opponents believe the contraband issue is a ruse by DOC to simply cut visitation. They believe most contraband is brought into prisons by prison employees and that cutting visitation will hurt inmates and their families while doing little to stop smuggling in drugs, cellphones and other banned items.
"It's the officers but they are trying to put the blame on visitors. For the visitors who do bring in contraband, terminate their visitation," Merchant said. "As his mother and support system I am the first line of defense for him to not recommit and to come out a better person. I get to see him only every three or four months. It is so far and I am on disability. Everything is a sacrifice but he is worth the sacrifice because he is my son."
DOC posts a new release on its website whenever an employee is caught with contraband. So far this year, six staffers have been found to have brought in contraband.
Also posted on DOC's website are reports on contraband found on visitors. Most weekend reports have a handful of cases.
About 60 percent of the contraband is found in the dormitories, providing no clue on how it was brought in, Glady said.
"Unless you find it on the way in, you don't know the sources from which it came," Glady said. "Everyone has to be searched to come in whether it's an officer or a visitor — everyone goes through the same search."
Polk, who served time for multiple charges related to a Gainesville arson, has created the Florida Council for Incarcerated and Formerly Incarcerated Women and Girls.
The council is part of a national group and its motto is Freedom from the Inside Out and it works to support women who have had brushes with the prison system.
It is one of several organizations in the region working on the visitation issue. Others include local groups of the Incarcerated Workers Organizing Committee and the Campaign to Fight Toxic Prisons, both national organizations.
Polk said she first learned of DOC's proposal when she read a notice regarding visits to the few women's prisons — three at the Lowell complex in Marion County, Hernando Correctional, Homestead Correctional and Gadsden.
"They were saying that because women rarely get visits anyway, it would save money to do it," Polk said. "To cut somebody off and say nobody cares about them anyway, they don't have relationships with their children anyway, so let's cut them off — I have a big problem with that."
©2018 The Gainesville Sun, Fla.