Rural county offers air-conditioned beds for inmates suing Texas prisons over heat
The lawsuit cites the death of 22 Texas inmates since 1998 from exposure to indoor heat in the summertime
---
By Gabrielle Banks
Houston Chronicle
NEWTON COUNTY, Texas — A rural county east of Houston is offering up a novel remedy for the state's problems with overheated prisons.
As Texas inmates await a federal judge's ruling -- expected any day -- on whether to grant them emergency relief from dangerous indoor temperatures at prison units that don't have air conditioning, Newton County Judge Paul Price penned an unsolicited letter to U.S. District Judge Keith Ellison.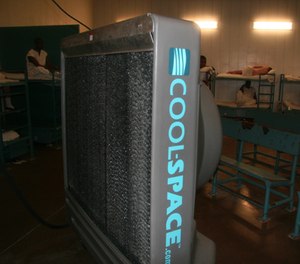 Newton County, near the Louisiana border, has a 900-bed, air-conditioned facility that's vacant and available for use should Ellison see fit to consider it, Price wrote.
It's a private prison facility on 72 acres for minimum, medium and maximum security prisoners housed on one level that has been shuttered since 2012. Price said it used to house overflow inmates from Newton and nearby Jasper County, and other Texas counties. It has also taken inmates from Arizona and Immigration and Customs Enforcement.
It might take a little work to get it operational again - but it is vacant and has built-in air-conditioning, Price said.
He said he'd be glad to work with the owners to help facilitate the process.
"At one time it was a state-of-the-art prison," said Newton County Sheriff Billy Rowles, who runs the local jail and is currently paying $400 a day for overflow elsewhere. "I'd give my eye teeth to get that thing up and going."
Rowles said the private prison provided jobs in Newton County for about 200 people who now are scrounging for work.
"Some are working at Walmart, some working [at the county jail] and some of them ain't working," he said. "The economy's just really bad over here. That would do us a great job."
A spokesman at the Texas Department of Criminal Justice did not immediately respond to a request for comment about the impromptu offer.
But Jeff Edwards, one of the attorneys in the federal lawsuit against TDCJ, said he was pleased about the offer.
"It's nice that someone is trying to solve an obvious problem. It's regrettable that it's a county official in Newton County," he said.
Edwards said it concerns him that Texas prison officials have not examined the possibility of using under-capacity county jails - which are air-conditioned by law - even though a significant portion of prison inmates are at risk during the summer months.
"Their job is protecting human beings in custody who are in their care and they're just not doing that," Edwards said.
The federal lawsuit filed on behalf of inmates at the Pack Unit in Grimes County claims that the Texas prison administrators are deliberately indifferent in exposing inmates to serious harm during summer heat waves.
The suit, filed by a team from Edwards Law in Austin and the Texas Civil Rights Project, was filed initially by six inmates at the geriatric facility, which houses many elderly and medically compromised inmates. The Pack Unit does not provide cooled air on its housing units. 
The lawsuit cites the death of 22 Texas inmates since 1998 from exposure to indoor heat in the summertime.
There are currently 18,732 vacant jail beds in Texas, according to the Texas Commission on Jail Standard's population report from June.
©2017 the Houston Chronicle