How CO families deal with the holidays
The holidays are stressful enough, but being a CO family can make them feel daunting and lonely
---
The holiday season is stressful for every family. Coordinating all the obligatory family visits, meals and expensive exchanging of gifts can leave any person cranky and feeling like a bit of a Scrooge. Add to that the joy of being a CO family and the holidays can feel daunting and lonely.
Thanksgiving is already gone this year, thank goodness. Joining my family for the traditional turkey and all the fixings meant days of cooking in advance, traveling the day before and day after, wrangling the kids in and out of stores and relatives' houses by myself and spending hours explaining "Where's your husband? Oh, he had to work, I see. That's too bad; he should have taken the day off."
If only it were that easy.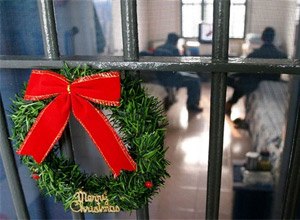 For my CO to get time off around the holidays is nearly impossible, as it may be for yours. It usually requires a certain amount of seniority and/or rank. Some years we are lucky and his regular weekend days happen to be on the holiday we choose to celebrate. This still leaves a feeling of discontent because other families get additional days off including their regular weekend. For CO families, not only do you have to squeeze in your regular weekend chores and errands, you have to plan and execute a holiday celebration too! It leaves me feeling like I just ran a marathon.
But usually, what I see happening in my CO family and others' is that our family celebrations become smaller, we focus on just "us," and move our celebrations to fit our crazy schedules the best we can. It reminds me of the year my brother was in the Army and stationed in Afghanistan. His R&R fell in February that year, so none of us put up Christmas trees and we waited to get our presents from our parents until February when he could be home to join us. Thankfully that year there were no small children in the family yet to explain why Santa wasn't coming on December 24.
In years past, we have done the same thing as a CO family. We move our celebrations a day here, or a day there to match his days off. When the kids are little enough, they don't notice the difference. You wake up on December 28 and say "Santa came last night!" and they're equally as excited.
As they get older, it's harder to explain "We have to wait for Daddy to be home to open presents together." They understand, but on some level there is always disappointment. Remember, we are the ones who chose this life, our spouses truly made the choice, to answer the call working in essential services that require 24/7/365 staffing – our kids didn't.
And even though you know your turn is coming to celebrate with your loved ones, the actual day of a holiday can still tend to be a lonely place while you're waiting. You get phone calls:
"Hey, what did you get for Christmas?"
 "I don't know yet."
"Oh. Sorry."
Sometimes the holidays can be downright infuriating. Your CO spouse dons the uniform and boots and walks behind those walls and wire by choice, leaving their family behind. Meanwhile, the facility is bursting at the seams full of inmate families getting together for holidays and sometimes having special celebrations and meals. Even the inmates in solitary get milk and cookies on Christmas Eve, but your kids didn't because they have to wait for your CO spouse another day.
If your CO is lucky, they may get a special meal while working a holiday or you have to cook for a potluck. But that doesn't mean that during working hours they will get adequate break time to enjoy that meal. One year my CO came home with a can of soda in his pocket and laughed, saying "Look what I got today!"
There have even been years when my CO was called for mandatory OT on a holiday. We had to be thankful for the multiples of pay he was going to receive for that shift, because otherwise I would cry. Add insult to injury. Of course, with taxes and such afterwards it never seemed worth it, but what choice do you have? None. Except to accept what you are given in this CO life.
But every once in a while, there is a glimmer of a silver lining. Seniority comes. Rank comes. Shift bid comes. Look ahead at the calendar, if you get a choice in your facility, and choose a post and/or a shift where your days off fall on the holiday. And have yourselves a Merry Little Christmas! You are not alone.