Feds: Manhattan bomber attempting to radicalize other inmates
Ahmad Khan Rahimi reportedly gave other inmates access to materials including bomb-making instructions
---
Associated Press
NEW YORK — Federal prosecutors say the man who was convicted of setting off a bomb in Manhattan that injured 30 people last year has been attempting to radicalize fellow jail inmates.
The New York Times reports that the government says Ahmad Khan Rahimi gave other inmates access to speeches by Osama bin Laden and Anwar al-Awlaki and materials including bomb-making instructions.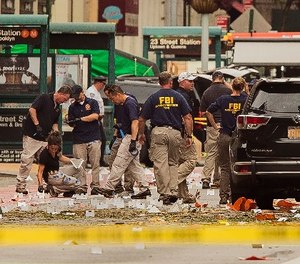 The allegations came in a letter Friday from the office of Acting U.S. Attorney Joon Kim to Judge Richard Berman.
Berman is to sentence Rahimi on Jan. 18 after a jury convicted him in October of all the charges against him.
Prosecutors say the inmates Rahimi shared the materials with included Sajmir Alimehmeti, a Bronx man who has been charged with providing material support to the Islamic State.