Brutally assaulted Wash. CO uses 'ballistic therapy' to overcome trauma
Sgt. Gentry Thorpe's passion for precision target shooting has turned out to be some of the best medicine
---
By Sheila Hagar
Walla Walla Union-Bulletin
        
MILTON-FREEWATER, Wash.  — In his younger life, Gentry Thorpe could have easily been on the other side of the bars on the day he was knocked senseless in 2019.
The Washington State Penitentiary sergeant was one of two officers pummeled, punched and rendered unconscious by a large, angry and mentally ill inmate that August day as they worked inside the prison's mental health unit.
Since then, Thorpe has lived with the physical and emotional results of the brutal attack. The best medicine he's found, after his family's support and love, is through his joy of and involvement with precision target shooting, he said last week.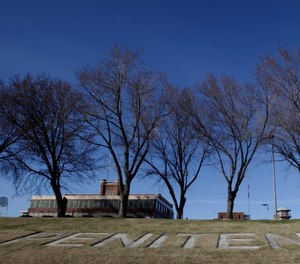 Such is his passion for the sport and for sharing it with others, that last year, Thorpe established a company, Black Hammer Tacti-cool LLC, which hosts precision shooting matches for others who enjoy the competitive hobby.
Shooting a .22 rifle helps everything, settling anxiety and restoring calm, Thorpe said.
"I call it ballistic therapy."
Life preservers
At one time, firearms stood a good chance of becoming a serious negative in the Milton-Freewater man's life.
In his hometown of Fort Lauderdale, Thorpe grew up running the streets, despite his grandmother's efforts as she raised him and his siblings for much of their childhood.
"I'm from a Black neighborhood, I'm from the inner city," he said, adding that his mom and dad had their own challenges arising from the environment around them.
Joining the military right after high school meant rescue from the land mines ahead he could clearly see, including gang affiliation, Thorpe said.
After serving seven years in the U.S. Army, he returned to Ft. Lauderdale and, to his own dismay, the street life.
There is every likelihood Thorpe would have become another statistic reflecting outcomes for young Black men living in such circumstances had it not been for family.
Thorpe's older brother had also joined the Army as a young adult and ended up stationed at Joint Base Lewis — McChord near Tacoma.
"Then he came to Walla Walla," Thorpe said.
"He talked me into coming up here and going to work at the prison. I had to look Walla Walla up; I only knew the name from a Looney Tunes cartoon."
Thorpe spent his last dollars to come for an interview. Assured a job would be his, he flew home again to make the move.
"My mom gave me the money to drive up here. I had $19 to my name when I got to Walla Walla. I lived with my brother until I got on my feet."
That was in 2008. By 2009, Thorpe had installed his family, including four children, in their new hometown and continued to focus on building a career as a corrections officer.
The work suited him. At the time, he said, the prison had a "paramilitary" atmosphere that was attractive for its structure and clear expectations.
"I got promoted fairly quickly because I was good at my job. Everything was good. We had just bought a house."
Thorpe, 42, had been a shooting enthusiast for years, but coming to this area brought his hobby into sharper focus.
"I met some white dudes who took me out shooting," he said, laughing.
"It was like love at first sight. I had never just shot for fun."
By 2016, Thorpe was hosting competitive matches and teaching classes, with an emphasis on precision shooting with .22-caliber rifles.
He first informally started Black Hammer to teach people long-range shooting skills, primarily using the range at East End Rod & Gun Club in Milton-Freewater, Thorpe said.
He teaches both rimfire and centerfire shooting, but this year the focus is on the simpler rimfire model to make the sport less intimidating and less expensive.
Thorpe even supplies a rifle and ammunition to those who want to try it out, a courtesy he calls "the Black Hammer experience."
The business now presents seasonal shooting matches. Thorpe is currently hosting a five-part, competitive winter series that will culminate in his first two-day event on April 9 and 10.
In February, attendance at the third session was robust with about 40 adults and a handful children moving through the course, vying to strike their targets.
Brandon Cadwell, who runs logistics and coaches shooting for Black Hammer, hustled here and there to help groups get lined out, a broad smile welcoming all.
"This year, we got affiliated with the Precision Rifle (Series), meaning some of these shooters are showing up to earn points for that," Cadwell said.
This sunny day included groups like the team from Lead Farm Gun Range in Prosser.
Lee Stebar, from LaGrande, Oregon, said Lead Farm members have been faithfully traveling to Milton-Freewater to participate in the Black Hammer series.
"This is pure enjoyment," Stebar said, waving a hand toward the range, explaining the challenge of multiple targets in multiple positions creates a happy tension as Lead Farm shooters try for the highest point count possible.
"It gets intense, and that's half the pleasure."
Down from Othello, Washington, David Valdez was attending his first competitive match after meeting other shooters at another event. It was a good way to spend a Saturday outdoors with new friends for not a whole lot of money, Valdez said.
"The .22 is cheaper, and it teaches the fundamentals of shooting."
Victor Mendoza from Hermiston agreed.
"It's just flat out fun, a good way to practice for relatively low cost. And this is a really nice range."
Duc Luu, a dentist at the Walla Walla prison, has known Gentry Thorpe for years and relishes being part of the Black Hammer crew.
Events like this, which attract families and friends, "puts shooting in a positive light," Luu said.
"We all value the Second Amendment, we love the community support. This is very organized and very safe."
Target shooting under these circumstances can be a good youth activity, all the better for being an outdoor sport, Luu said.
Jimmy Cadwell, 6, could be inclined to agree. The Assumption Catholic School kindergartner participates in the "Mighty Mini" division for shooters age 10 and under, with a focus on fun over competition.
Nonetheless, when asked what he enjoys about the sport, Jimmy shot out an answer: "Winning."
Winning at recovery
Gentry and his wife, Diedra Thorpe, now fully understand there is more than one way to win at target shooting.
The residual brain trauma from the inmate attack left Gentry Thorpe with short-term memory loss, cognitive issues, mental fatigue and poor concentration. Vertigo and migraines plague the corrections officer while periods of dark mood and flashes of anger impact the rest of the family.
"My psychologist tells me that's part of the brain injury. I was super mellow before," he said.
His wife has been a trooper, working as a para-educator at an elementary school while pursuing a master's degree in teaching and picking up the slack on the bad days, he said.
It was Diedra Thorpe who insisted her husband, a self-proclaimed "non-pet person," get the service dog health providers had recommended. Thus, "Blu" has joined the family.
When Gentry Thorpe was first injured, he "absolutely" couldn't go out to shoot, he remembered.
"I couldn't leave the house. I couldn't do anything."
About the time his psychologist suggested he try returning to his favorite sport, his speech therapist recommended the same. As Gentry Thorpe was able to return to his hobby, the mechanics of the sport retrained the focus and stamina he'd lost, much to his relief.
With the arrival of the COVID-19 pandemic, Gentry Thorpe took time to promote Black Hammer in every fashion he could.
"It gave me an opportunity to post my stuff on social media, and more people who were sitting at home and doing nothing saw it. I just flooded social media and tried to break the internet with all of it."
His wife used her degree in graphic arts to help with logo and marketing efforts, he said.
As the response started rolling in, Gentry Thorpe felt his depression falling away.
"People came, they showed up and they went shooting. And I got to socialize again. I was able to leave the house."
He plans to pay the medicine forward, he said.
"I've just tried to share what helps me with other people. I want them to have that same feeling."
     
(c)2022 Walla Walla Union-Bulletin (Walla Walla, Wash.)
McClatchy-Tribune News Service