St. Louis officials reject inmate claims of mistreatment, deny access to jail
Inmates have complained that not enough precautions were being taken to protect them from the spread of COVID-19
---
By Rachel Rice
St. Louis Post-Dispatch
ST. LOUIS — City officials on Thursday rebuffed a request by the American Civil Liberties Union, the state public defender's office and other advocacy groups for access to the City Justice Center to ensure that inmates are being treated humanely, calling claims that inmates were denied food, water and heat for days "flawed" and "unsupported."
The response from City Counselor Michael Garvin says officials have "rigorous protocols" to protect inmates and staff from the coronavirus and are provided with special menus for those who are diabetic, lactose intolerant or vegetarian. An automated heating system keeps the jail at 72 degrees, he said.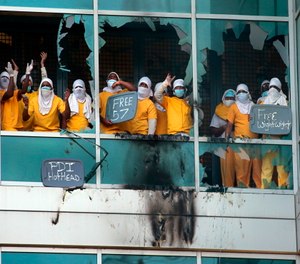 Garvin was writing in response to a letter Wednesday by the legal advocacy groups that said inmates and their lawyers were painting "a very different picture from that advanced by the city" in the days since a riot Saturday on the jail's fourth floor caused extensive damage and injured a corrections officer. The earlier letter also was authored by ArchCity Defenders and the Roderick and Solange MacArthur Justice Center at Northwestern University.
The letter threatened civil action if they were denied entry to the downtown jail's housing units and common areas. It wasn't immediately clear Thursday how they intended to respond to the city's denial.
Inmates have for months complained that not enough precautions were being taken to protect them from the spread of COVID-19, the groups say.
"These concerns have only escalated, and conditions worsened, since the protest this weekend," their letter said. It says inmates have reported going over 72 hours without food or water. It also says toilets have been overflowing and inmates have been forced to sleep on the floor. The ACLU of Missouri and others have also long criticized conditions at the city's second jail, the St. Louis Medium Security Institution, also known as the workhouse.
ArchCity Defenders and lawyers working on a 2017 lawsuit over conditions at the workhouse filed an emergency motion seeking an inspection of that facility, citing complaints about low temperatures and retaliation from jailers, including the use of pepper spray.
Officials have been denying claims of inmate mistreatment for days.
Jacob Long, a spokesman for St. Louis Mayor Lyda Krewson, said Wednesday that water service was temporarily shut off Monday because inmates "continued to stop up toilets and drains."
"That's part of what the task force will do — to investigate and respond to these claims to find out if they are true or not," Long said, referring to a group Krewson established to look into the complaints.
The Post-Dispatch requested a tour of the City Justice Center on Wednesday, but Long said it would violate COVID-19 protocols to allow access to areas housing inmates.
Matthew Mahaffey, the head public defender in St. Louis, said clients on the fifth floor told Mahaffey and lawyers in his office that they had nothing to drink over the weekend, and there was limited food. Toilets wouldn't flush and inmates also complained of the cold.
One client he saw "was just not in a good way," Mahaffey said. He kept asking for water and looked pale.
One client told Mahaffey that Saturday's mayhem started after a corrections officer got into an altercation with an inmate, then deployed mace or pepper spray. That spray spread quickly and affected much of a fourth-floor unit. Mahaffey said the client did not want his name used for fear of retaliation.
The Post-Dispatch spoke Thursday with another inmate who said he was on the fourth floor before and during the riot.
The inmate, who did not want his name used for fear of retaliation, gave a similar account of how the uprising started. He said inmates started "popping" their cell locks to get away from the pepper spray and also to seek help for an inmate who was having a seizure. He said opening the locks simply involved running cardboard or a card through the crack of doors that have defective locks. Inmates know about the lock problems but don't routinely take advantage of them, he said.
They were taken to a unit on the fifth floor and they were not allowed to bring personal items. "They threw us in cells with nothing," he said. There was no food or water, and no medicine, he said.
"I don't know if it was to torture us or what," said the inmate, who is jail with pending murder charges.
The inmate's cellmate used metal on the cell door to rip open his mattress and climb inside for warmth, and those inmates who had mattresses did the same, he said.
Toilets were also backing up due to a lack of running water.
The inmate said he believed they were being punished for the riot.
The inmate's lawyer, public defender Julie Clark, said jailers have an "obligation to treat people humanely."
"What we're hearing about on the fifth floor is the deprivation of basic human rights," she said.
The City Justice Center over the course of several weeks has been the scene of at least three disturbances, with the most serious on Saturday when inmates were not only able to slip their cells but also breach their units and gain access to hallways and exterior windows. The unrest and damage was captured in cellphone recordings by onlookers outside the Justice Center and broadly shared on social platforms.
___
(c)2021 the St. Louis Post-Dispatch
McClatchy-Tribune News Service