Using grants to fund inmate healthcare
Inmate healthcare costs are straining correctional facility budgets – here are some grant funding sources that could assist with those expenses
---

Editor's note: When it comes to inmate healthcare, correctional facilities are facing a perfect storm. A growth in geriatric inmates poses significant challenges in regard to management of chronic diseases and environmental modifications; drug-addicted inmates are flooding correctional facilities; and in many jurisdictions, jails and prisons are now the largest providers of mental healthcare services. This special coverage series reviews key ways facilities can prepare to battle the storm.
Inmate healthcare costs continue to represent one of the largest segments of a correctional agency's budget. State prisons, county jails and municipal lock-up facilities are experiencing ever-increasing expenses in an effort to treat an inmate population with varied medical and behavioral health conditions.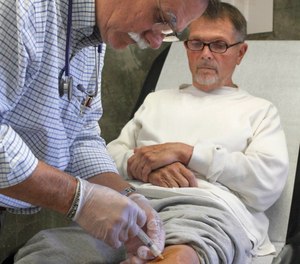 HIV/AIDS, hepatitis C, infectious disease, tuberculosis, cardiovascular disease, substance abuse disorders and various mental health conditions are prevalent among this population. The aging prison population brings many senior healthcare issues to the table as well. Covering the cost of prescription drugs, lab testing, inpatient and outpatient hospitalization, medical staffing and facility modifications all come at a high cost, straining state, county and local municipality's budgets.
Have you considered grant funding to cover a portion of your correctional healthcare costs? Here are several grant sources that may cover some of your inmate healthcare costs and ease your fiscal burden.
HIV/AIDS Treatment
At least two federal grant sources will be available this fiscal year to cover HIV/AIDS treatment and continuum of care services.  
The CDC has just announced the forecasted Systems-level Approach to Improving Health Outcomes for HIV-positive State Prison Inmates Released to the Community  grants. The funding will support innovative models of HIV medical care to state prison inmates released to the community.  The emphasis is on continuity of care and adherence to HIV treatment.
The Ryan White HIV/AIDS Program offers grants each year to cover primary medical care and essential support services for people living with HIV who are uninsured or underinsured. The Health Resources and Services Administration (HRSA) recently published new guidance on the use of Ryan White Funds for the incarcerated and justice involved population living with HIV. The new guidance allows the funding to be used on a transitional basis for those in federal and state prisons and on a short term and/or transitional basis for those in local jails or under community supervision. A few Ryan White Grant opportunities are open now with deadlines in late January and February.
Substance Abuse/Drug Addiction Treatment
For many years, the U.S. Department of Justice has awarded formula grant funding under the Residential Substance Abuse Treatment for State Prisoners (RSAT) Program. Funding is awarded for the development and implementation of treatment programs in state, local, and tribal correctional and detention facilities. Medication-assisted treatment is an allowable cost under this program. All grants are awarded to State Administering Agencies (SAA) who must sub-grant these funds to correctional agencies across their state. A 25 percent match is required. Contact your SAA to find out how you can access these funds for your facility.
In the past few years, the federal government has increased its grant funding to combat the opioid crisis that besets our nation-including those incarcerated. The U.S. Department of Justice and the Department of Health and Human Services provide grant opportunities under several programs including the Comprehensive Opioid Abuse Site-based Program, the Opioid Affected Youth Initiative, the Rural Communities Opioid Response Program, SAMHSA's Tribal Opioid Response Grants and the HEAL Initiative among others.
Not only will many of these grant programs support medication-assisted treatment, but they will also support residential and non-residential treatment if proposed as part of an overall strategy. These grants are available now or will be available in early 2019. Work with your community treatment providers, and other state and local partners on a comprehensive strategy to combat this issue in your community.
Behavioral Health Services
Two grant programs that could support correctional costs for those with mental health disorders are the Justice and Mental Health Collaboration Program and the Improving Reentry for Adults with Co-occurring Substance Abuse and Mental Illness program.
Both grants are offered by the U.S. Department of Justice and will allow for some of the funding to be used for assessment and treatment of individuals while incarcerated. Not only are these grants focused on reducing the prevalence of those with serious mental illness in jails and prisons, but they also prioritize training of criminal justice, mental health and substance abuse personnel to better identify and treat mental illness.
Telemedicine and Facility Modification Costs
An increasing number of states, local and tribal correctional agencies are utilizing telemedicine to not only reduce inmate healthcare costs but also provide specialized services to those incarcerated in remote areas of the country.  
Implementing a telemedicine program can be extremely costly due to the equipment, networking and broadband expansion required for this initiative. Grants that could support correctional telemedicine/telehealth programs include the USDA's Community Connect grants and the Distance Learning & Telemedicine grants.
The Federal Telehealth Compendium is also a great source of information on several federal grant programs that may support your telehealth infrastructure needs. Also, reach out to your state or county Office of Information Technology to inquire about federal or state grant funding they may have to support your telemedicine needs.  
Addressing the medical needs of your inmate population may require facility modifications for constructing medical units, specialized testing and treatment or mental health housing. The USDA's Community Facilities Direct Loan & Grant Program funds both medical facilities and public safety facilities including prisons and jails. These funds support the cost of renovation or construction and are awarded on a sliding scale based on population size and poverty level.
Also, if your correctional facility is located within the eight-state Delta Region, reach out to the folks at the USDA to see if you qualify for a Delta Health Care Services Grant. These grants support the development of healthcare services, health education programs, healthcare job training programs, or the development and expansion of public health-related facilities in the Delta region.
Grant funding strategies
Here are some additional strategies to consider when seeking grant funding that supports your correctional healthcare costs:
Reach out to your state or local health departments to discuss your correctional healthcare needs. These agencies often receive federal, state or private grant funding that may be sub-awarded to support your varied inmate healthcare initiatives.
The country's largest healthcare providers including Aetna, Cigna, United Health and Anthem may have grant opportunities or funding partnerships available.  Review the guidelines available on their website and contact these companies to discuss your projects.
If you are one of the correctional agencies that partners with a local medical university to provide your correctional healthcare, ask them to reach out to their university's Grants and Sponsored Research Office to discuss your needs. They may be able to identify additional grant funding opportunities that the university could apply in partnership with your agency.
The team at PoliceGrantsHelp is always ready to assist. Our grant assistance program includes a number of options including localized grant research, grant writing and grant application review.