Fighting political ignorance about corrections and criminals
Why and how criminal justice agencies can and should educate politicians
---
These days, criminal justice agencies would do well to take aggressive steps toward educating members of state General Assemblies. Public safety is widely regarded as the number one function of government, and Americans cherish their ability to move about freely from place to place unencumbered, and with reasonable assurance their families will return home safely at the end of each day.
In fact, without public safety, no other civilized institution can operate. Commerce is not possible; enforcement of contracts, basic government services, participation in the educational process, recreation or the ability to practice one's faith are simply unattainable without the presence of order. Increasingly, however, state legislatures are struggling to find adequate funding to maintain the level of protection citizens have grown to expect.
Public safety is king, but the price is king-sized; therefore, state agencies should ensure legislators remain fully informed, both during session and in off-session periods.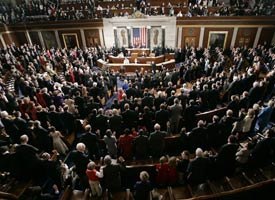 A climate of misinformation
While agencies submit data reports to the state capitol and post information on web sites, term-limited, citizen legislators suffer from lack of good, practical information about the criminal justice system, related statutes, policies and procedures.
Police, courts, and corrections are constantly battling myths and false assumptions, volatile news coverage, or lobbying efforts by offender advocacy groups promoting messages often blatantly incorrect.
While legislators may feel they are representing the needs and will of the citizens electing them, they often know very little about criminal behavior, sentencing practices, diversion and probation, parole or what recidivism truly means.
Even members of various judiciary committees are unaware of critical facts needed in order to prudently consider landmark legislation. Once new bill drafts are analyzed by agencies, potential unintended consequences about proposed legislation should be brought to the attention of both the Executive and Legislative Branches of government immediately. Organizations should be engaged in critical discussions with House and Senate leadership, as well as representatives of the Governor's office, in order to promote understanding of the issues and seek bill language compromise when possible.
How to get legislators to prioritize public safety
What are some other specific steps agencies can take to help legislators gain a better understanding of the criminal justice process? Here are a few ideas:
1. Alliances and dialogue between police, sheriffs, district attorneys, judicial and corrections organizations are useful for removing the silo effect and in turn creating trust and relationship building with legislators across all disciplines of the criminal justice system.
2. Facility tours and staff shadowing help dispel misperceptions and promote transparency.
3. Committee briefings to include an understanding of fiscal impact go a long way in helping legislators understand that the construction of just one new prison bed translates to hundreds of thousands of dollars in capital expenditures, staffing, programs, services and after care.
4. Likewise, it is important for lawmakers to understand unfunded mandates can spell disaster when the time comes for rule-making or implementing newly passed criminal law.
Legislating public safety will be ongoing; for states facing fiscal challenges, budgetary odds are better when criminal justice agencies openly invite lawmakers into their organizations and provide critical facts in order to promote informed decision-making.