Fla. jails to try diversion program for mentally ill inmates
Jails hope to improve care by providing post-booking interventions and community-based services
---
By Stephen Hudak
Orlando Sentinel
ORANGE COUNTY, Fla. — Orange County will launch a trial project to divert non-violent defendants with mental illnesses from jail to community treatment.
The project, proposed by Commissioner Jennifer Thompson, would be modeled after a similar post-booking program in Miami-Dade County, home to one of the nation's largest populations of mentally ill persons.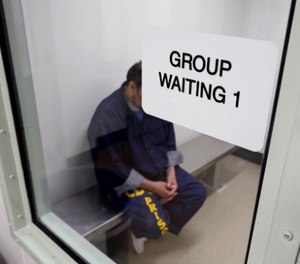 "Our jails have become our de facto mental-health receiving facilities," said Donna Wyche, manager for mental health & homeless issues for Orange County's Department of Health Services.
Project details will be brought back to the County Commission at an unspecified later date, but it is likely to include more crisis-intervention training for law enforcement officers.
Commissioners approved a budget amendment for $400,000 to pay for the program.
Last month, Thompson said her interest in creating a post-booking program was stirred by the chronic struggles of a family member who developed a manic-depressive illness after a heart attack.
She identified the family member during Tuesday's public meeting, but the Orlando Sentinel is not revealing details to protect the individual's privacy.
Thompson said the family member was "moments from becoming a statistic in Orange County and being one of those individuals on the street."
She learned about the Miami-Dade program from a C-SPAN broadcast featuring 11th Judicial Circuit Court Judge Steven "Steve" Leifman, special adviser on criminal justice and mental health to the Florida Supreme Court since 2007.
Her idea won unanimous support from fellow commissioners, including mayoral hopeful Pete Clarke, who supervised mental health services at the jail before was elected commissioner.
Locking people up is not an effective way to provide mental-health services, he said.
"People languish there," he said. "Jail's not the place to do it. The environment is not warm and fuzzy."
Clarke said when inmates with mental health issues get the right resources, their chances for a full recovery improve.
Wyche said people in jail with a mental illness tend to stay longer -- 21 days on average -- than those who don't -- seven days.
"They get sicker. They don't get better," Wyche said. "Jails aren't meant to treat the mentally ill."
A jail inmate with a mental illness also tends to create more risk for jail staff and higher costs for the jail, she said.
Thompson said a study by the Florida Supreme Court found that over a period of five years 97 mentally-ill people in Miami-Dade County accounted for 2,200 arrests, 27,000 days in jail, 13,000 days in psychiatric facilities and nearly $14 Million in public costs.
But Miami-Dade diversion programs have been so successful the county was able to close one of its jails, which has resulted in a savings of $12 million.
About one of every five adults in the U.S. -- 43.8 million, or 18.5 percent -- experiences mental illness in a given year.
"Everybody knows someone," Clarke said.
Since Miami-Dade began its Criminal Mental Health Project a decade ago, fewer people in psychiatric crisis are being arrested and booked into the jail, Thompson said in a memo to fellow commissioners.
"Orange County Corrections and our local criminal justice partners have inherited the responsibility to address the complex needs of seriously mentally ill individuals whose disease results in law enforcement action or arrest," she said in the memo. "In the scenario of nonviolent, low-level offenders, this approach is inefficient and costly for the system, as well as clinically inadequate for individuals with serious mental illness."
Thompson wants Orange County to adopt elements of the Miami-Dade program, including post-booking interventions to improve care and reduce repeat offenses by diverting non-violent misdemeanor offenders into community-based services.
The mayor, who revealed she lost a brother to bipolar disease, endorsed the diversion concept.
"I think we need to understand this better," Jacobs told Thompson in July. "But you have my word today. I'm 100 percent with you."
McClatchy-Tribune News Service