'Roots of Success': ODRC creates culture of sustainability
Environmental literacy and job readiness curriculum strengthens basic skills increases understanding of environmental challenges
---
By Raquel Pinderhughes, Leah Morgan, and Paul Sheldon
Inmates typically have little motivation to help their incarceration facility achieve its goals. Most, like most Americans in the general population, have a limited understanding of the social and environmental value of implementing efficiency and sustainability-oriented measures inside and outside of the facility. 
Because of this, the Ohio Department of Rehabilitation and Correction (ODRC) instituted an education and training program that involves staff, inmates serving long to life sentence, and inmates serving shorter sentences who might be hired by green employers upon their release.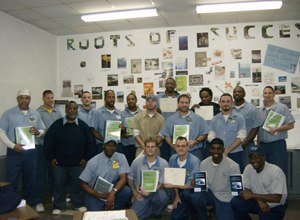 ODRC officials are aware that a basic hiring criterion of green sector employers is that job applicants need to be familiar with basic environmental concepts, topics and sustainability-oriented practices.
In response, the ODRC's sustainability program selected an environmental literacy and job readiness curriculum, called Roots of Success, that strengthens basic skills increases understanding of environmental challenges, prepares inmates for entry-level green jobs in multiple sectors of the economy and fosters a culture of sustainability within correctional facilities.
Roots of Success was identified by the National Institute of Corrections as one of only three curricula in the country that are immediately useful for incarcerated youth and adults, citing that the curriculum includes "relevant content; focus on environmental and social issues relevant to the incarcerated; challenges students but is not too difficult for those with limited proficiencies; and is designed for students with reading levels lower than 9th grade and with limited math skills, but with content appropriate for older youth and adults."
The curriculum can be taught by staff and by inmates who have no previous teaching experience or expertise in the environmental content. Instructors are trained, certified, and provided with on-going technical assistance and resources.
In Ohio, long-term offenders in 13 institutions have been certified to facilitate this program. To date, more than 1,000 inmates have graduated from Roots of Success in Ohio prisons.
ODRC chose to invest in Roots of Success for a number of reasons. For incarcerated individuals who are preparing for reentry, the program offers relevant job training skills. For those who are serving longer sentences, it offers a different kind of opportunity. Regardless of the amount of time left to serve, Roots of Success graduates are prepared, empowered, and inspired to make a positive impact in their prison environment.
The Roots of Success program has been so successful in creating a culture of sustainability within the inmate population, that ODRC expanded it to half of state's prisons within two years of the first class, and is working actively to reach every institution.
For more information on the Ohio Department of Rehabilitation and Correction's sustainability plan, see http://www.drc.ohio.gov/web/Sustainability_Plan.pdf; for "Roots of Success" see www.rootsofsuccess.org.
Raquel Pinderhughes, Ph.D. is Professor and Chair of Urban Studies and Planning Department at San Francisco State University, and the creator of the Roots of Success curriculum.
Leah Morgan, M.Ed. is Director of Community Engagement for the U.S. Green Business Council chapters in Ohio, and is a member of the ACA Clean and Green Committee.
Paul Sheldon, M.A. is a sustainability consultant, who serves as Senior Advisor to www.GreenPrisons.org, www.PlantingJustice.org, and www.InsightGardenProgram.org, is a founding member of the ACA Clean and Green Committee, and is the primary author of ACA's Public Policy and Standard on Environmentally Responsible and Sustainability-Oriented Practices.