State hiring freeze increases prison staff workload
While the freeze doesn't prevent the hiring of COs, Warden Jim Farris is still 40 short and may be forced to use non-uniform staff to fill security-type roles
---
By Mark Hughes
Muskogee Phoenix
TAFT, Okla. — A statewide hiring freeze by the Oklahoma Department of Corrections could possibly strain one area corrections facility to the limit.
The hiring freeze, effective Feb. 23, was mandated by Joe Allbaugh, director of DOC. Allbaugh's budget was cut by almost $3 million due to the recently announced state budget shortfall. The freeze excludes correctional officers, probation and parole officers, medical professionals and food service officers, states a news release.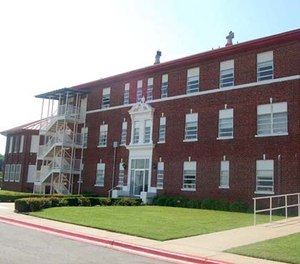 Jim Farris, warden of Jess C. Dunn Correctional Facility in Taft, said the freeze will impact non-uniformed staff like case and unit managers, records department workers and business office employees. However the freeze does not allow promotions for correction officers or for non-uniform personnel.
"About 80 percent of our non-uniform positions are filled," Farris said. "But what can be misunderstood is that if I lose two case managers right now I can't replace them." He said that in a week's time he could be down to 50 percent with non-uniform personnel "and that's a huge impact when you have a hiring freeze."
The primary focus of a case manager is to track everything inmates are supposed to do per their court order, Farris said.
"Case workers are almost like a social worker in the facility — they determine if an inmate is ready to be released into society," Farris said.
While the freeze doesn't prevent Farris from hiring corrections officers, he's still 40 short and may be forced to use non-uniform staff to fill security-type roles. He said the facility has several non-uniform personnel who are former corrections officers.
Farris said to continue daily operations of the facility it may take one person to perform two or three positions.
"When you're short of corrections officers, the security of the facility and the safety of civilians are all in jeopardy," he said.
The facility's maximum capacity is 1,129 inmates. Because Farris lacks the proper number of correctional officers, he may have around 10 officers on each shift. It's not unusual for an officer to work 16-hour days, which "happens quite a bit," he said.
"Ten officers for 1,129 inmates is not good math," Farris said.
If he had a full staff he might have 15 to 16 officers supervising inmates per shift.
Farris said that no matter what, the staff steps up and puts their life on the line every day.
"They may be working three to four positions, but they do what they have to do to remedy this situation."
He said his staff is not really griping about the situation, but everyone has to step up, including himself.
"It may come to the point that I'm running a shift or working a post, but the thing is we'll do what has to be done."
———
©2017 the Muskogee Phoenix (Muskogee, Okla.)