Transformational leadership and the impact on morale, satisfaction
Making this shift could likely lead to the reduction of overall inmate-upon-officer assaults as well as inmate-upon-inmate assaults
---
By Dr. Michael Pittaro, Faculty Member, Criminal Justice at American Military University
Working within a prison can be dangerous and unsettling for corrections officers. Corrections officers are tasked with maintaining a safe and secure facility not only for correctional staff, but also for prisoners.
Primary Stressors for Corrections Officers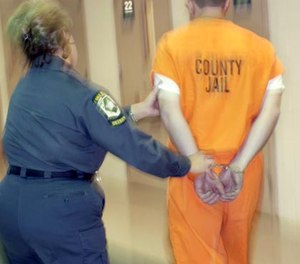 Most of us who have worked or are currently working in corrections agree that job satisfaction and morale in corrections is, and always has been, low in comparison to other criminal justice professions. There are higher rates of stress, burnout, and turnover among corrections professionals.
Contrary to what most people outside of the corrections field believe, the two leading stressors associated with corrections work are:
Organizational and structural issues within the prison administration
Weak or inconsistent leadership practices
Is it surprising to you that the primary source of stress, dissatisfaction, and discontent among corrections officers is with prison administrators, not the inmate population?
The Importance of Adopting Transformational Leadership Practices
The behaviors, attitudes, and actions exhibited by correctional officers can either quell or escalate a situation. Correctional institutions have historically relied on punitive and authoritative styles of leadership. However, I believe correctional leaders must adopt a transformational leadership approach to governing correctional officers, staff members, and inmates within their facilities.
According to a 2012 National Institute of Corrections publication, transformational leadership enables higher performance in correc­tional organizations as leaders create a safe environment in which followers can take risks that result in positive change. Effective correctional leaders realize that individuals are motivated differently and they strive for bal­anced leadership that emphasizes firmness, fairness, and consistency.
A search of the National Criminal Justice Reference Service database pertaining to corrections officers' workplace attitudes affirms that officers who feel stressed exhibit punitive attitudes toward inmates. Since transformational leadership appeals to social values and encourages collaboration toward goals such as crime reduction, a correctional institution is an ideal location for widespread social change to occur.
Why Corrections Must Shift its Leadership Practices
Corrections leaders must work to shift leadership practices from punitive-style correctional leadership practices to transformational, coaching, and mentoring leadership practices in order to help:
Empower corrections staff to accept the organization's mission in correcting socially unacceptable criminal behaviors through rehabilitative efforts and means
Create a sound therapeutic, rehabilitative atmosphere
Provide opportunities for inmates to acquire the social skills and values necessary to become productive law-abiding citizens
Enhance rehabilitation efforts and prepare inmates for community reentry, which could conceivably reduce escalating recidivism rates
Making this shift could likely lead to the reduction of overall inmate-upon-officer assaults as well as inmate-upon-inmate assaults, thus increasing workplace safety outcomes.
About the Author: Dr. Michael Pittaro, assistant professor within the School of Security and Global Studies at American Military University, is a 28-year criminal justice veteran, highly experienced in working with criminal offenders in a variety of settings. He has lectured in higher education for the past 15 years while also serving as an author, editor and subject matter expert. To contact the author, please send an email to IPSauthor@apus.edu.