W.Va. gov. signs bill to increase pay for COs
"It is incredibly important our hardworking correctional officers get paid what they deserve," Gov. Jim Justice said
---
By Charles Owens
Bluefield Daily Telegraph, W.Va.
CHARLESTON, W. Va. — Gov. Jim Justice signed several bills into law aimed at increasing pay for correctional officers and reducing staff vacancies in prisons across the Mountain State.
The Republican governor signed six bills during a ceremony outside of the Gene Spadaro Juvenile Center in Mount Hope, near Beckley.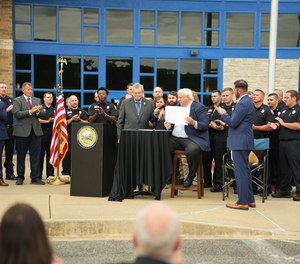 "In many ways government sometimes never, or often never works, as quickly as we want it to," Justice said. "Now we are on a pathway to making things better for a lot of folks who are here."
The new legislation will increase the starting salary for a correctional officer from $35,514 to $40,000. At the end of their second year of service, the salary will be $48,000.
The governor's office said correctional officers, categories three through seven and non-uniform staff, will begin to receive an annual increase of $250 in 2024. Current correctional staff will receive two retention incentives totaling $4,600 with the first effective increase in October and the second scheduled for March 2024.
Justice said efforts to improve pay for correctional officers and address prison staffing shortfalls began two years ago. He said lawmakers didn't initially act upon the request.
"So a year ago we sent another bill up and we got the same result," Justice said. "Then, all of a sudden, the public outcry really just sounded more and more up."
That public outcry led to a special legislative session earlier this month during which time lawmakers approved millions of dollars in raises and bonuses for corrections employees.
"It is incredibly important our hardworking correctional officers get paid what they deserve," Justice added. "This legislation is just a drop in the bucket, but it will go a long way in filling our vacant positions and upgrading our jails around the state. We have been working with lawmakers for a while to make this happen, and I am thrilled to see it cross the finish line. This is a big win for West Virginia."
Three of the bills signed by Justice will directly increase efforts to fill vacant positions at the state's correctional facilities.
The bills passed by the Republican-controlled legislature included a measure providing more than $21 million in pay increases for corrections officers and bonuses for other staff.
"I know we've got senators and delegates and a lot of good people here," Justice said during Monday's ceremony. "It took a lot longer than it should have, and we should have responded right off the get go, but we didn't. Now we have. Let's celebrate now."
The measures signed into law Monday by Justice included SB 1005, which includes a supplemental appropriation of $21.1 million for the Division of Corrections, which Justice said was the "biggie" of the six bills. He also signed into law S.B. 1004, which provides $284,500 in supplemental appropriations for parole supervision fees and S.B. 1006, which provides temporary identification card for individuals exiting the corrections system free of charge for 180 days.
Justice also signed S.B. 1009, which prohibits the use of state funds for medical procedures in state jails and prisons unless they are medically necessary, as defined by the medical professional treating the patient.
The special session came a year after Justice declared a state of emergency and called on the state National Guard to assist at the state's jails and prisons, which have a vacancy rate of more than 30 percent, according to earlier reports from the Associated Press.
___
(c)2023 the Bluefield Daily Telegraph (Bluefield, W.Va.)
Visit the Bluefield Daily Telegraph (Bluefield, W.Va.) at bdtonline.com
Distributed by Tribune Content Agency, LLC.
McClatchy-Tribune News Service