Calif. AG asks judge to sanction L.A. County if it doesn't fix juvenile halls
The DOJ wants a judge to intervene because the county hasn't complied with a court judgment for two years
---
By Jason Henry
Pasadena Star-News
LOS ANGELES — The California Department of Justice has asked a Superior Court judge to sanction Los Angeles County if it doesn't fix "illegal and unsafe conditions" at two county-run juvenile halls within 120 days, Attorney General Rob Bonta announced Wednesday, April 12.
The DOJ wants the judge to intervene because the county has not complied with the terms of a prior court judgment for more than two years. That judgment required the county to maintain adequate staff levels to ensure the youth detainees receive the educational, medical and recreational services they're entitled to, Bonta said.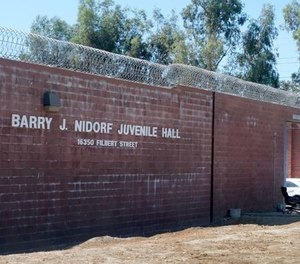 But due to an ongoing staffing crisis, Bonta's office said, the county has not only failed to make the required improvements, it is now "regressing in areas where some progress had been achieved," according to the motion. Violations are "severe and ongoing, and youth and staff are at serious risk of harm," states the DOJ motion.
"The conditions within the juvenile detention centers in Los Angeles County are appalling," Bonta said in a statement. "For justice-involved youth in particular, it is imperative that our institutions give them every opportunity for rehabilitation, growth, and healing. We are responsible for protecting justice-involved youth and ensuring they receive educational, health, and supportive services necessary to stop the cycle of incarceration."
The enforcement motion filed Wednesday, which includes sanctions for noncompliance, would require the county to:
Provide "timely transport" of youth to school daily or provide services to make up those lost hours.
Ensure that youth have access to the outdoors daily.
Document and review all use-of-force incidents.
Install video cameras at Barry J. Nidorf Juvenile Hall.
Implement "a positive behavior management plan."
Data provided by the Los Angeles County Office of Education indicate students at Barry J. Nidorf and Central juvenile halls lost 617 hours and 174 hours of education, respectively, in February 2023 due to the Probation Department's inability to transport youths to school.
In a statement, the Los Angeles County Probation Department said it continues to take "substantial steps to remedy the issues enumerated in the motion filed today."
[EARLIER: From fake food deliveries to drones: How drugs get into L.A. County's juvenile halls]
"Central to those efforts is an accelerated hiring and incentive plan addressing the staffing shortages at Central and Barry J. Nidorf Juvenile Halls," the statement reads. "The plan is aimed at curtailing absenteeism and leaves by current probation staff, while adding 450 new or transferred officers by the end of 2024."
The department has installed an electronic room check system in the halls, is adding more security cameras to common areas and plans to change its contracting procedures to procure programming for youths more quickly, according to the statement. All of the juvenile halls' staff members are being retrained on deescalation tactics and the department is phasing out the use of pepper spray by January 2024.
"As always, our primary concern is for the safety and well-being of the young people in our care — and to provide the best possible therapeutic environment for those we serve," the statement reads.
The Department of Justice motion comes just days after an L.A. County Office of Inspector General report that found lax security measures — compounded by the staffing issues — have allowed drugs, including fentanyl, to be easily smuggled into the two juvenile halls. Two teens overdosed in a two-day period, including one teen who overdosed, went to the hospital and then overdosed again on the day they returned.
The enforcement motion states that youths are forced to urinate in their rooms during the night shift "due in part to continued lack of staffing."
Employees are regularly required to work more than 24-hour-long shifts and the county is relying on, in some cases, temporarily reassigned field officers without the proper training, the DOJ said.
The Board of State and Community Corrections is set to vote Thursday, April 13, on whether to declare the two juvenile halls "unsuitable," a designation that would force the county to empty the correctional facilities within 60 days if the Probation Department is unable to address 39 items of noncompliance.
Interim Chief Probation Officer Karen Fletcher, who took the reins after the Board of Supervisors fired her predecessor last month, has submitted an updated corrective action plan to the state agency and asked for 90 days to implement the fixes. BSCC in March denied an earlier version after determining it did not "provide enough detail" about its specific plan and did not have a "reasonable timeframe for resolution."
___
(c)2023 Pasadena Star-News, Calif.
Visit Pasadena Star-News, Calif. at https://www.pasadenastarnews.com/
Distributed by Tribune Content Agency, LLC.
McClatchy-Tribune News Service