How therapy dogs help youth in detention
The use of therapy dogs is usually associated with hospitals and nursing homes, but they are just as effective inside a secure youth detention facility
---
Reprinted with permission from the King County Dept. of Adult & Juvenile Detention InDepth Newsletter
By Linda Robson
It's hard to imagine the rock-solid sculpted physique of a Doberman Pinscher melting into the floor, but that's exactly what Ricochet was doing as he snoozed and daydreamed on his regular Thursday visit to King County Juvenile Detention.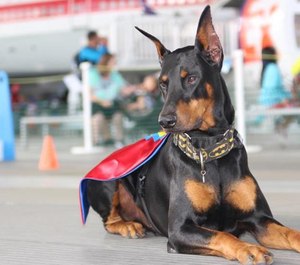 At first glance, Ricochet cuts one of the most intimidating profiles in the dog world, and it seems almost impossible to think that this canine carved from solid granite would be approachable, gentle and loving enough to be an effective therapy dog. That is until you pet him and feel the warm glowing aura that surrounds this one-of-a-kind pup.    
He is at once majestic and powerful in his stance, while still carrying soft, milk chocolate eyes and a heart of gold that rivals any comic book superhero. Superman, Batman, Captain America – they're all paper tigers compared to noble Ricochet.
"Nothing bothers him. Everybody is his friend," says Deneese, his handler. "He's just a good all-around guy."
As Deneese and I sat with Ricochet in the library at the King County Juvenile Detention Facility in Seattle, I discovered it actually is possible for a dog seemingly made of steel and stone to dissolve into a furry, gooey puddle with just one little pat. He becomes one with the carpet. It's one of his myriad superpowers.
Another of his superpowers is his ability to instantly make friends, and he also has the ability to elicit some of the strangest high-pitched cooing noises known to man. Case in point: As Deneese and Ricochet sit (and stay) for the interview, a small group of teen boys enters the library, and their faces instantly light up at the sight of a dog in the middle of a detention facility. Whispers of "Hey, hey, lookit!" and "Oh, check out the dog," and "Whoa, that's so cool," bubble up from the group, until one young man shyly asks, "Is it a boy or a girl?"
"He's a boy. That's Ricochet," says Deneese.
"Aww, Ricochet. Can I pet him?" he whispers.
"Ya, you can pet him, sure," Deneese says.
By this time Ricochet has quietly stood up to inspect the new people who have entered the room, and he gently approaches the young man with confidence and curiosity.
As the teen reaches out, Ricochet immediately knows that scratches are imminent, and he turns to present his itchy rump. It's the height of summer, and poor Ricochet's hay fever is in full swing (this super pooch's Kryptonite), and he instantly starts kicking his leg and leaning to one side, even though he's still standing up. The young man and his companions giggle at Ricochet's antics, and their eyes glisten for a moment with a bit of pure joy and innocence.
It's moments like these that inspire Ashley Mareld, Juvenile Programs Manager for the King County Department of Adult and Juvenile Detention.
"My favorite part about working with youth, and particularly high-risk youth, is being able to provide programming that allows them to just be kids again. So many of our youth have had to grow up too quickly, or they've had experiences that they were not psychologically or developmentally ready for, and they've missed out on some of those aspects of childhood. So being able to provide something that allows them to forget everything else and drop their external hard shells and just be kids again – that is what I live for!" says Mareld.
Bringing a therapy dog to juvenile detention was a bit of a lark for Mareld. The use of visiting therapy dogs and comfort pets is usually associated with hospitals and nursing homes, but inside a secure youth detention facility is certainly not a typical setting.
"When I talk to the kids, you know, I always talk about my own dog," says Mareld. "I mean, I love dogs, and I've always had dogs my entire life. So when I would talk about mine, a lot of them would tell me about their pets at home. So I thought, hey, wouldn't it be great if we could bring in a therapy dog into detention? So, one day I just googled therapy dogs in Seattle, and Project Canine came up. I typed up an email asking if they would be interested in discussing the opportunity to come in, and they responded back to me within the week."
Project Canine knew they had a very special match with Ricochet and his handler Deneese. Ricochet has the perfect personality for the detention environment – calm and gentle but still engaging and bright, while also being big enough to hold his own and be confident in the middle of a group of teenagers. Add in Deneese's background in law enforcement and over 40 years of dog handling experience, and you have a perfect therapy dog pairing for this unique setting.
When Ricochet is doing his therapy dog work, he's a master of serenity and a champion cuddler. But don't be fooled – this pooch is no one-trick pony. Ricochet also competes in obedience, agility, Barn Hunt and Flyball. "Don't get me wrong, he's really driven," says Deneese. "When we do Flyball, he's knocked me on my butt before – he is just so fast!"
Ricochet's versatility is one of the things that makes him such a good fit for youth detention. Pets and scratches are good, but he also knows how to turn on the charm and get the youth laughing with tricks, fetching and other escapades.
"[The youth] love to play games, play hide and seek with the ball, and, you know, just laugh and enjoy part of their day. And they don't have to do anything – they don't have to impress the dog. They can just sit here and pet him, too," says Mareld.
But beyond Ricochet's charm and versatility, just the fact that he is an unusually gentle Doberman Pinscher offers the youth in detention a special opportunity.
"Him being a Doberman, they have that general air about them that they're unpredictable or vicious or cantankerous," says Deneese. "I mean, how many Dobies do you see doing therapy work? You don't."
Mareld says, "Well, there is the initial fear for some, because he's a big Doberman, and sometimes their experiences with big dogs like him includes their experience with police dogs. But this gives them the opportunity to interact in a positive way with a big dog that is obviously very well behaved."
"Actually, on our first visit in here, we had a young lad who just about threw himself over the bookshelf trying to get away, and he says 'I was just bitten by a police dog, and I'm not gonna get bit again! But now guess who loves to visit him now," Deneese says. "That's why I think this is the perfect place for him [Ricochet], because, again, these kids usually have negative experiences with dogs that look like him, so I think that's one reason why they recruited us."
Ricochet's special knack for making friends gives the youth in detention a mental break during his visits and long after he's gone he leaves lasting lessons on trust and building positive relationships.
"One of the first times we brought Ricochet in, we went into our long term hall where a lot of our auto-adult kids are. Now, they're here on very serious charges," says Mareld of the juveniles charged as adults, "but they were literally rolling around on the ground with him, petting him, petting his face, playing with him – and that's exactly what I want to give these kids an opportunity to do, even though they're in detention."
---
About the author
Linda Robson is a communications specialist with the King County Dept. of Adult & Juvenile Detention in King County, Washington.