Ky. Senate gets bill with $48M in annual funding to fix juvenile justice system
Another bill is calling for a $500K audit of eight juvenile detention centers
---
By John Cheves
Lexington Herald-Leader
LEXINGTON, Ky. — The Kentucky Senate will get two bills aimed at fixing the state's broken juvenile justice system, one with $47.9 million a year in staffing and security enhancements and the other calling for a $500,000 audit of the eight juvenile detention centers where violence and neglect have become a recurring problem.
The Senate budget committee approved the bills on Wednesday as senators repeated their calls for Vicki Reed, the state's juvenile justice commissioner, to resign. Reed, who was appointed in 2021 by Gov. Andy Beshear, has refused to step down despite lawmakers urging her to do so because of multiple riots and assaults on her watch.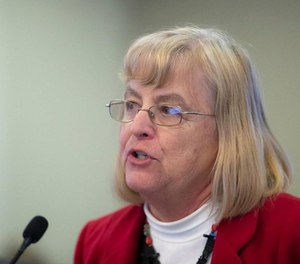 Beshear has told reporters that he supports Reed.
"I fear it's the result of political patronage," state Sen. Danny Carroll, R- Paducah, testified to the committee on Wednesday.
"She seems to be a very nice lady," Carroll said. "But overwhelmingly, those within the system whom we have spoken with feel she does not have the ability, she does not have the credibility to get the organization where it needs to be."
In several bills now moving through the legislature, lawmakers are trying to address the chronic under-staffing that has led to many serious problems at the Department of Juvenile Justice. In January, Beshear announced a hefty pay raise for the security officers at juvenile detention centers, taking them to a starting salary of $50,000.
Senate Bill 162 would spend nearly $48 million annually on the raises for security officers at the Department of Juvenile Justice and, to be equitable, at the Department of Corrections, which runs the prisons; 146 additional staff positions; physical security upgrades; a diversionary program to help youths with mental illness; and a tracking system, so families and lawyers more easily could locate incarcerated youths.
[EARLIER: Ky. officials ask lawmakers for $45M, new laws to fix juvenile justice system]
SB 162 also would make a number of systemic changes to the Department of Juvenile Justice.
It would reverse Beshear's recent executive order segregating male and female youths, as well as low-risk and high-risk youths, by sending them to different detention centers around the state, sometimes several hours from their homes. Beshear took this step after a girl reportedly was raped by several boys during a riot at the DJJ facility in Adair County.
Instead, the bill would require DJJ to return to a regional detention system where youths are housed in the facility closest to their homes. However, the bill calls for security upgrades to better separate the boys and girls and the violent and nonviolent offenders when they are housed inside the same facilities.
The bill also requires emergency response teams to be trained and ready in each DJJ facility; agreements to be signed with outside police agencies to assist with violent incidents if necessary; and security officers to resume wearing uniforms while on duty in DJJ facilities.
In the last few years, discipline inside DJJ has become lax, contributing to the current problems, senators said.
"This is our response to a crisis in leadership," said state Sen. David Givens, R- Greensburg.
The other measure passed Wednesday, Senate Bill 158, provides $500,000 for the state auditor's office to hire an independent firm to conduct a performance review of the juvenile detention centers, with a report due Oct. 15.
The House on Tuesday passed its own juvenile justice measure, House Bill 3, with a list of recommended changes and funding proposals.
Some items in HB 3 are similar to SB 162, such as a requirement for the state to provide mental health care to youths in detention if a professional assessment determines they need it. Others parts are different, including a three-year waiver on the confidentiality of juvenile court records for youths who are convicted of violent offenses.
NEXT: Lawmakers call for investigation, new leadership at Ky. juvenile justice agency
©2023 Lexington Herald-Leader.
Visit kentucky.com.
Distributed by Tribune Content Agency, LLC.
McClatchy-Tribune News Service