Pa. juvenile center facing staffing crisis, may be forced to shut down
To recruit staff, the center's youth care workers need raises, officials said
---
By Rudy Miller
The Express-Times
EASTON, Pa. — Northampton County's juvenile detention and treatment center may be forced to shut down unless it can recruit more staff, a county official said.
To recruit staff, the center's youth care workers need raises, according to Northampton County Court Administrator Jermaine Greene.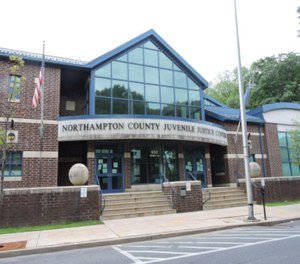 "We're at that level now where we need some help," Greene told Northampton County Council at a meeting Thursday. You can see his remarks on the meeting's YouTube video.
The center at 650 Ferry St. in Easton has 24 employees and 33 vacancies. There are barely enough people to maintain order, Greene said.
"If we lose four or five more, we're going to be in real trouble because we're not going to be able to keep our facility open," Greene told the county council courts and corrections meeting March 16. That meeting is also on YouTube.
Greene said youth care workers at the juvenile center start at $16.46 an hour. They can earn more money at fast food restaurants without facing the challenges they face at the juvenile center, he said.
Some kids are awaiting transfer to adult court for serious crimes, he said. One 11-year-old out-of-county child in the juvenile center strangled and killed his grandmother, Greene said.
Greene called for wages in line with corrections officers. The prison doesn't have nearly the number of vacancies as the juvenile center, Greene said.
Greene called on Northampton County to negotiate raises with the youth care workers' union.
The county takes in juveniles from counties without the programs and facilities Northampton County offers, Greene said. When fully staffed, the juvenile center generates more than $1 million a year in revenue due to those out of county placements, he said.
The county started offering $3,000 signing bonuses in November to try to attract workers, but it netted only three hires, Greene said. The county is looking to offer part-time work to try to attract new candidates.
But these measures are Band-Aids, Greene said.
"The last step is salaries," Greene said at the April 7 meeting. At the March 16 meeting he said, "The bottom line is these people need to be paid more money. It's that simple."
He said he'll go to the judicial branch of county government for emergency authorization for the raises if he can't get help from county council.
"This facility is going to crumble if we don't act," he said.
©2022 Advance Local Media LLC. Visit lehighvalleylive.com. Distributed by Tribune Content Agency, LLC
McClatchy-Tribune News Service