Ky. sheriff honors inmate for saving lives after deadly tornado
"We wish him the best and applaud him for his sense of humanity," Sheriff Jon Hayden said in a now-viral Facebook post
---
By Sarah Sinning
GRAVES COUNTY, Ky. — A Kentucky sheriff's Facebook post praising an inmate for his heroic actions on the night of a deadly tornado has gone viral, WKYT reports. 
In the early hours of December 10, an EF-4 tornado destroyed a candle factory in Mayfield, trapping roughly 100 people inside, including a group of work-release inmates from the nearby Graves County Jail. While Officer Robert Daniel, who was supervising the work crew, was killed in the building collapse, a yet-to-be-identified inmate was said to have worked tirelessly to rescue survivors.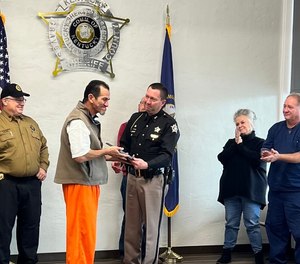 "Days and weeks after the deadly tornado," Sheriff Jon Hayden said in the post, "I and others began hearing about an inmate who worked feverishly at the candle factory site pulling victims from the rubble and rendered aid to others that were trapped and injured."
After requesting an inquiry from jail staff into the veracity of the claim, "we learned from some witnesses that the inmate in question was in fact Mr. Marco Sanchez," who despite suffering a broken leg and ribs, "unselfishly went and found tools and other items and returned and re-entered the rubble," the sheriff continued.
While at least one other inmate fled custody in the aftermath of the tragedy, Mr. Sanchez promptly got in touch with authorities upon his release from the hospital.
"Mr. Sanchez had a lot of decisions to make that night," Sheriff Hayden said. "He could have made the decision to only save himself, but he didn't. His actions likely resulted in other lives being saved. The series of decisions he made over the next several hours were the right decisions and we applaud you for that, sir."
The sheriff's office hopes that upon his release Tuesday, "someone will take a chance on him and give him an opportunity to start a new life."
"We wish him the best and applaud him for his sense of humanity," the sheriff said.