Ky. county deputy jailer among dead at candle factory leveled by tornado
The officer was supervising 7 inmates participating in a newly launched work program
---
Update: December 13, 2021. The officer killed during Friday night's factory collapse has been identified. Read more.
By Austin Horn
Lexington Herald-Leader      
MAYFIELD, Ky. — Amid a flurry of tornado and severe storm damage in Western Kentucky late Friday night, one powerful gust flattened a Mayfield candle factory that had more than 100 people inside.
Mayfield Consumer Products collapsed with 110 people inside during the overnight shift and only 40 had been rescued by noon Saturday, according to Gov. Andy Beshear.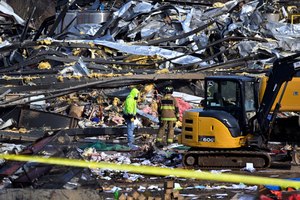 "We're gonna lose a lot of lives in that facility," Beshear said. "I pray that there will be another rescue... I think the largest loss of life in this tornado event is and will be there."
The last successful rescue occurred at 3:30 a.m, according to Beshear.
Beshear had said earlier on Saturday morning that "at least dozens" in the factory had died.
"We're praying for each and every one of those families," Beshear said.
Deaths were counted across the Western part of the state. Beshear said he estimates casualties in about 10 different counties in Kentucky. He added that he was "certain" the total death toll in Kentucky was greater than 70, and said it could reach 100 by the end of Saturday.
"The level of devastation is unlike anything I've ever seen. You see parts of industrial buildings' roofs or sidings in trees, if trees are lucky enough to stand;buildings that are no longer there; huge trucks that have been picked up and thrown," Beshear said. "And sadly, far too many homes that people were likely in entirely devastated. This will be, I believe, the deadliest tornado system to ever run through Kentucky."
President Joe Biden, at the request of Beshear, declared an emergency in the state on Saturday afternoon.
Per the release, Biden ordered federal assistance "to supplement Commonwealth and local response efforts" to the severe storm damage. The declaration authorizes the Federal Emergency Management Agency (FEMA), to "coordinate all disaster relief efforts which have the purpose of alleviating the hardship and suffering caused by the emergency."
A FEMA search and rescue team was on the scene Saturday, according to Kentucky Division of Emergency Management Director Michael Dossett.
The Courier-Journal reported that a group of 15 coroners and deputy coroners have set up a staging area in Madisonville to deal with mass fatalities.
One worker captured the nightmarish aftermath on her phone.
In a mostly blacked-out video posted to Facebook Live, Kyanna Parsons-Perez identified herself as a worker at the factory and captured footage of coworkers trapped under the rubble of the factory building.
She explained that she couldn't move her legs because a water fountain and part of the building's wall had pinned them down. Other people trapped in the rubble are heard in the video crying out for help and struggling to stay calm under the wreckage.
"They told us not to move, because if we move we may cause the stuff to fall more," Parsons-Perez said. "I can't feel my legs."
After being rescued, Parsons-Perez told The Today Show that being trapped underneath the rubble for about two hours was the most terrifying thing she's ever experienced. She also shared that she believed that some people helping individuals were incarcerated at the Graves County Jail and Restricted Custody Center.
Graves County Jailer George Workman couldn't confirm that, but said that seven people incarcerated at the jail were working at the factory as part of an agreement between the jail and the factory that was meant to help them develop "a work ethic and hopefully have some funding when they get out." The Paducah Sun reported on the program this summer. Workman confirmed to the Herald-Leader on Saturday evening that those seven inmates were accounted for, though some had non-life-threatening injuries.
However, one deputy jailer who accompanied them is deceased, according to Workman. He added that the program had only just started this week.
"It's something that you never expect to see, and you never want to live through it," Workman said. "It's a very unfortunate set of events."
All other people incarcerated at the jail are accounted for and are being housed in other county jails, according to Workman.
The jail confirmed on its Facebook page that a few of those trapped under the roof were inmates at the facility and that one staff member died due to the severe weather. The post did not specify who the inmates were and what their status was.
A person commented on the Facebook post expressing concern about a family member who was at the jail. The jail responded that unless the person was at the candle factory "you can rest assured that he is okay." All the people who were at the jail, the post read, are now housed in other county jails after the facility and adjoining courthouse sustained significant damage.
Paige Tingle told the Herald-Leader at mid-day that her 52-year-old mother who worked at the factory, Jill Monroe, is still missing.
Tingle said her mother was in the facility's bathroom when it collapsed. She said she was concerned because Monroe has heart and lung issues.
Paducah TV station WPSD has reported that those affected by the storms in Graves County can seek shelter at Mayfield High School or Fire Station 1 at 211 E. Broadway Street.
Graves County Coroner Brad Jones said that as of Saturday afternoon he did not know the number of deceased at the candle factory and that it was still an active scene.
"We're still trying to get them all accounted for," Jones said. "We're still working and we're out here now."
He said his office was attending to cases "all over the county," as well.
"It's hard on all of us right now."
Beshear encouraged those interested in donating to relief efforts should visit the following website: teamwkyrelieffund.ky.gov

(c)2021 the Lexington Herald-Leader (Lexington, Ky.)
McClatchy-Tribune News Service