Ala. bill would allow some prisoners serving life to seek new sentences
To be eligible, inmates must have been sentenced to life without parole under Alabama's Habitual Felony Offender law
---
By Mike Cason
al.com
MONTGOMERY, Ala. — A bill to allow some inmates serving sentences of life without parole whose crimes did not cause a serious physical injury to apply for reduced sentences won approval Wednesday in the Alabama House Judiciary Committee.
Rep. Chris England, D-Tuscaloosa, said the bill would be an important first step toward sentencing reform. England, a longtime proponent of reform, said the bill, HB229 is a compromise version of a "Second Chance" bill developed in cooperation with the attorney general's office and Republicans on the Judiciary Committee.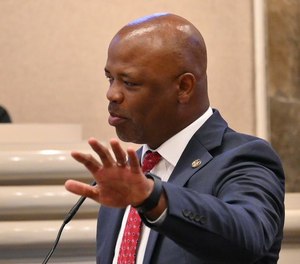 "I think it's a recognition that sometimes sentencing can be overly harsh," England said. "Some of the arbitrary standards that we set up to incarcerate individuals sometimes can go too far."
England said the bill would give a chance for review to inmates who did not benefit from revisions to sentencing laws that took effect after they were convicted.
"I think the bill appropriately identifies that population and is going to try to help them if we're able to get it through the process," England said.
Committee approval puts the bill in line for a vote by the full House of Representatives. It would also have to pass the Senate to become law.
England said about 300 inmates would be eligible to file motions for new sentences if the bill passes. To be eligible, inmates must have been sentenced to life without parole under Alabama's Habitual Felony Offender law before May 26, 2000. Those who committed murder, a sex offense, or any crime causing a serious physical injury would not be eligible.
If eligible, an inmate could apply for a reduced sentence. The motion would be heard in the trial court where they were convicted. The district attorney would have a right to be heard on the motion. And the victim of the crime could file a statement or testify. The bill says the judge would give the victim's opinion "considerable weight."
The judge would also consider the underlying offense, the inmate's conduct in prison, whether the inmate used a firearm in the crime, and the availability of a structured reentry plan to help the inmate adjust to life outside prison.
England said many of those provisions in the bill were the result of working with the attorney general's office and Republicans on the committee, including Rep. Russell Bedsole, a captain in the Shelby County Sheriff's Department. England has often seen his bills stall in the Republican-controlled Judiciary Committee, but said today's vote is an example of the possibilities of compromise.
"Sometimes when you're on the outside looking in, this looks like a circus, like professional wrestling to most people," England said. "It seems like we all just don't get along and we fuss and fight about a bunch of different things. But underneath it all, sometimes a good idea can motivate cooperation and people from different walks of life, different sides of the aisle can come together and see ideas and try to synthesize something that can help people but at the same time satisfy a bunch of differing opinions and perspectives."
England acknowledged that several hundred inmates is a small portion of the population in Alabama's overcrowded and understaffed prisons, which the Department of Justice says hold men in conditions that violate the Constitution.
"But I don't want to disregard the fact that we're still talking about humans, humanity," England said. "And some people do deserve a second chance for review. And I'm not looking at arbitrary distinctions between people. I know that there are more. But this is a small first step and we're going to continue to work to try to find different ways to alleviate prison population but also to create review for people that may be unjustly serving beyond the time they should be."
England said if his bill passes it could create more opportunities for inmates like Ronald McKeithen, who served almost 37 years before his release in 2020. McKeithen received a life without parole sentence under the Habitual Felony Offender Act when he was convicted of first-degree robbery in 1984 because he had a previous record of three nonviolent property crimes. While in prison, McKeithen got his GED and became a licensed barber. He won his release with help from the lawyers at the Alabama Appleseed Center for Law & Justice. He now works at Appleseed, at the Offenders Alumni Association and at an alternative school where he speaks to kids.
"I think you're going to see that these folks were not defined by their worst moments," England said. "I think you're also going to see that despite the harrowing, inhumane, violent, abusive, corrupt conditions within our prison system, that there are many people who still have the wherewithal to thrive within that system, help people within the system and then get the opportunity when they get out to become full contributing citizens again. So I'm anxious and hopeful if this bill gets through the process and that we can create more Ronald McKeithens and show the world that there are many Ronald McKeithens out there, people who made a mistake in their lifetimes, made a few mistakes, but when given the opportunity, can do wonderful things."
—
©2023 Advance Local Media LLC.
Visit al.com.
Distributed by Tribune Content Agency, LLC.
McClatchy-Tribune News Service