Ala. lawmakers prepare to address prison crisis
The state must address overcrowding, violence that led the DOJ to believe the state is violating inmates' constitutional rights
---
Mike Cason
Alabama Media Group
BIRMINGHAM, Ala. — The Alabama Legislature passed its top priority last year, a fuel tax increase for better roads, quickly and by a wide margin with bipartisan support.
This year, a crisis in the state prison system stands as the top issue, but the path to a solution is murkier, more complex, and figures to carry a hefty price tag.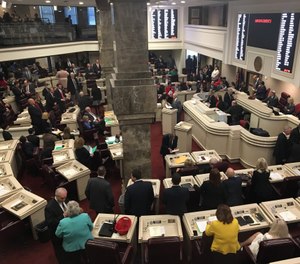 Lawmakers convene at noon on Tuesday to begin the 2020 session. Gov. Kay Ivey will deliver her State of the State address Tuesday night and is expected to talk about prisons, education, health care, the census, and other issues.
House Speaker Mac McCutcheon, R-Monrovia, who has led the chamber since 2016, worked for years to lay the groundwork for passing the gas tax last year.
"The path was there for us and the structure from the legislation was already in place," McCutcheon said. "Well, the path this year is not that clear on corrections. And corrections is really priority number one because of where we are with the Department of Justice."
The Department of Justice notified Ivey in April that it believes the state is violating the constitutional rights of inmates because of the violent conditions its investigation found. The DOJ said overcrowding and a severe shortage of staff compounded the problems. State officials and the DOJ are in negotiations.
The overcrowding has gotten worse since April, rising to 170% of the prison system's designed capacity. The revelation that crumbling conditions will force the transfer of more than 600 inmates from Holman Correctional Facility adds more stress.
The problems have festered for years to reach a state that Ivey calls a crisis. A study group led by former Alabama Supreme Court Justice Champ Lyons stressed urgency in its report to the governor, saying the state is at risk of a federal court ordering the release of inmates, which happened in California in 2012.
The study group did not propose specific legislation but said rehabilitation through expanded education, training, and treatment programs is the long-term solution because 95% of inmates will be released. Rehabilitated inmates are less likely to return to crime and wind up back in prison.
"We'll address corrections on the legislative side and take the lead from the governor's office on what their plans are and what their intentions are and we'll just start working the process," McCutcheon said. "It's not going to be as clear as the transportation discussion was, but it will be a cooperative effort like transportation was. We are working together on what we need to do."
McClatchy-Tribune News Service