Conn. governor vetoes bill sharply limiting solitary confinement
The bill "puts the safety of incarcerated persons and correction employees at substantial risk," said Gov. Lamont
---
By Daniela Altimari
Hartford Courant
        
HARTFORD — Gov. Ned Lamont on Wednesday vetoed a bill that would have sharply curtailed the use of solitary confinement in Connecticut prisons, saying the measure could jeopardize the safety of incarcerated people and Department of Correction staff.
The Democratic governor said that while he "fully supports" the purpose of the legislation, the bill was drafted too broadly and places "unreasonable and dangerous limits" on the use of physical restraints in the state's prisons.
"I am not signing this legislation because as written, it puts the safety of incarcerated persons and correction employees at substantial risk," Lamont wrote in his veto message.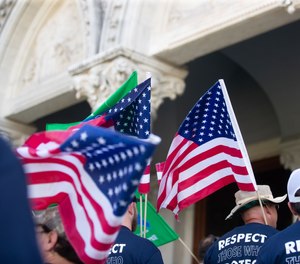 "This legislation places unreasonable and dangerous limits on the use of restraints. The bill … only permits correctional officers with the rank of captain or higher to order the use of handcuffs and only permits therapists to order restraints during the psychiatric emergency," Lamont wrote.
Supporters of the bill, who have been pressing for Connecticut to enact similar legislation for years, expressed disappointment at the governor's veto.
"The legislature spoke ... it was a bipartisan message," said Sen. Gary Winfield, one of the bill's leading champions in the General Assembly. "The governor disagreed with it. He has that right as the governor but he also, as a human being, has the right to be wrong."
But Sen. John Kissel, a Republican from Enfield, praised Lamont for rejecting the bill. "Why hamstring the DOC with a one-size-fits-all approach, one that takes away a potentially useful disciplinary tool?" Kissel said.
"The safety of our hardworking DOC employees — as well as the safety of the inmates — must be our priority."
Instead of signing the bill, Lamont issued an executive order that sets some limits on the use of solitary confinement and restraints, although it contained fewer restrictions on the practice than the bill passed by the legislature.
The order, which takes effect on Sept. 1, requires the correction department to guarantee that, "outside of extraordinary circumstances," incarcerated people can be held in isolated confinement only if they present a disciplinary risk.
A second part of the order requires the correction department to ensure that any incarcerated person who is held in solitary confinement has a "meaningful opportunity" to spend up to two hours per day outside of their cell. That provision takes effect on Oct. 1.
The bill vetoed by Lamont was strongly backed by advocates for criminal justice reform, who view solitary confinement as a cruel punishment that creates enormous psychological stress.
"I think he's just wrong," said Winfield, a Democrat from New Haven and co-chairman of the legislature's powerful judiciary committee. "I don't think the bill compromises safety in the way he suggests."
Winfield notes that an executive order does not have the same impact as a measure inscribed in statute.
"Executive orders don't necessarily remain in place,'' he said.
Earlier this month, former University of Connecticut basketball star Caron Butler came to Hartford to personally urge Lamont to sign the bill.
As a teen in Wisconsin, Butler was arrested numerous times. During one stint in prison when he was 15, he was placed in solitary confinement as a disciplinary measure.
"To lock someone up, and put you away in solitary confinement for 23 hours, letting you out for 30 minutes for hygiene and things like that … [with] no access to the outside world … it takes a toll on you," Butler, who is currently an assistant coach with the Miami Heat, said during a press conference at the Capitol.
Correction officers say solitary confinement and the use of restraints are two important disciplinary tools, and, at a rally at the Capitol Wednesday, they cheered Lamont's decision.
"We are very grateful for the veto," said Aimmee Reyes-Greaves, a supervisor at Osborn Correctional Institution and an executive board member of the union representing correctional employees. "When something happens and we don't have enough officers to take care of an issue in the facility, that can hurt all of us."
Barring solitary confinement and limiting the use of restraints would have required hiring additional staff to ensure no one's safety was at risk, Reyes-Greaves said.
The bill vetoed by Lamont would have set strict limits on how solitary confinement could be used. Under the legislation, almost all incarcerated people would have been permitted to be outside their cells for a minimum of 6 1/2 hours a day. (Exceptions were allowed in cases of a temporary emergency.) The bill also would have created an ombudsperson to monitor the state Department of Correction.
Stop Solitary CT, an advocacy campaign run by the National Religious Campaign Against Torture, said they were informed of Lamont's decision to veto the bill just minutes before his office announced it.
"This is a slap in the face to directly impacted people," the group tweeted.
©2021 Hartford Courant.
McClatchy-Tribune News Service