Inmates would earn less 'good time' under bill advanced by Ala. lawmakers
The bill is named after Bibb County Deputy Brad Johnson, who was shot to death last year while pursuing a convicted felon in a stolen car
---
By Mike Cason
al.com
BIRMINGHAM, Ala. — A bill to cut back on how Alabama inmates can reduce their sentences by following the rules in prison won approval today in an Alabama House committee.
The bill would amend the state law on correctional incentive time, known as "good time." Good time has been in the state law for decades but has come under criticism over the last two years because the men charged in the deaths of two Alabama law enforcement officers had received good time credit.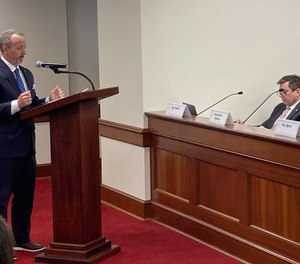 Rep. Russell Bedsole, a Republican from Shelby County who is also a captain with the Shelby County sheriff's office and supervises the county jail, is the sponsor of the bill. Sen. April Weaver, a Republican from Bibb County, is the sponsor of the bill in the Senate. It was approved by the Senate Judiciary Committee on Wednesday.
The bill is named after Bibb County Deputy Brad Johnson, who was shot to death last year while pursuing a convicted felon in a stolen car. Johnson was 32. The man charged with capital murder in Johnson's death, Austin Patrick Hall, had a long criminal history and had received good time credit while in prison.
State law excludes many Alabama inmates from eligibility for good time. In January, the Alabama Department of Corrections said 2,775 of the 19,962 inmates in custody, or 13.9 percent, were eligible.
But those that are eligible can reduce their sentences significantly. They are classified in three categories. Class I inmates can shave 75 days off their sentences for every 30 days served. Bedsole's bill would change that to 30 days for every 30 days served. Class II inmates can receive 40 days for every 30 days served. The bill would reduce that to 15 days. Class III inmates can receive 20 days for every 30 days served. The bill would cut that to five days for every 30.
Bedsole's bill would require inmates to remain longer in a class before moving to a higher class and would add new rules on forfeiting good time.
Rep. Chris England, D- Tuscaloosa, said what happened to Deputy Johnson was an "unspeakable tragedy" but questioned whether taking away good time was the right response. England said the reason Hall was not behind bars had more to do with poor decisions by law enforcement than weakness in the good time law.
"The law itself wasn't the problem. It was the people that were responsible for doing the job didn't do it," England said.
[RELATED: Ala. governor changes 'good time' policy]
At the time of the shooting, Hall was not released from incarceration because of good time. He had escaped from a work release center, was recaptured, and then was released on bond without ever being returned to the state prison system, where he would have had his good time credit revoked if the rules had been followed.
England said reducing the chance of good time would take away incentive for good behavior and make Alabama's overcrowded and understaffed prisons more dangerous. The Department of Justice alleges in a lawsuit that conditions in prisons violate the constitution.
Bedsole said jails and prisons are responsible for rehabilitation and education of inmates. He said the good time law can work against those efforts because inmates are released before they can benefit from those programs.
This is the second straight year lawmakers have considered changes in good time. Last year, the Legislature passed a bill to make inmates convicted of manslaughter ineligible. That came in response to the shooting death of Sheffield Police Sgt. Nick Risner in 2021. The man charged in Risner's death had served only three years of a 10-year sentence for manslaughter because of good time.
In January, Gov. Kay Ivey issued an executive order setting new rules for good time, including sanctions to take away good time for inmates who commit violations. Ivey said the changes were needed because the system was too lenient and the rules were applied differently in different prisons.
The House Public Safety Committee approved Bedsole's bill today. It could be up for consideration in the full House of Representatives as early as Thursday. Weaver's bill could be up for consideration in the Senate on Thursday.
©2023 Advance Local Media LLC.
Visit al.com.
Distributed by Tribune Content Agency, LLC.
McClatchy-Tribune News Service