Va. governor bypasses SC ruling to help 200K ex-felons vote
McAuliffe vowed to fight the ruling by signing clemency grants for the state's ex-offenders one by one
---
By C1 Staff
RICHMOND, Va.— Following last week's Virginia State Supreme Court ruling on an April executive order regarding voting rights of ex-felons, Gov. Terry McAuliffe is taking a different path to restore the voting rights of thousands in the state.
The controversial executive order restored voting rights to ex-offenders who had completed their prison sentence as well as their supervised probation or parole.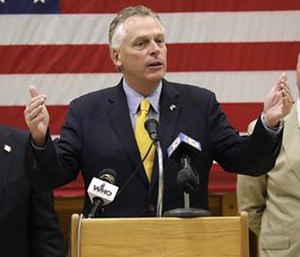 On Friday, the courts ruled in a 4-3 decision that the executive order violated the state constitution. 
"This requirement implies a specificity and particularity wholly lacking in a blanket, group pardon of a host of unnamed and, to some extent, still unknown number of convicted felons," Chief Justice Donald Lemons wrote in the majority opinion. 
According to TIME, McAuliffe vowed to individually sign orders restoring voting rights to former felons in the state, beginning with those who had already registered to vote, saying the court's decision "placed Virginia as an outlier in the struggle for civil and human rights."
"I will expeditiously sign nearly 13,000 individual orders to restore the fundamental rights of the citizens who have had their rights restored and registered to vote," he said in a statement on Friday. "And I will continue to sign orders until I have completed restoration for all 200,000 Virginians."
38 states and the District of Columbia have laws that allow most ex-felons to regain voting rights automatically after they complete their sentence, but Virginia is one of nine states that requires voting rights to be restored only by executive order or court action, according to the National Conference of State Legislatures.
The governor's office says just 13,000 ex-felons have registered so far, and the new need for individual clemency orders will likely slow down the registration process.