Former Angola warden named new director of Miss. prisons
Burl Cain stepped down from Angola in 2016 following reporting that investigated private real estate deals he entered into with relatives and friends of inmates
---
By Patrick Magee
The Sun Herald
BILOXI, Miss. — Mississippi has hired the former warden of one the nation's most notorious prisons to take over as commissioner of the Department of Corrections.
Gov. Tate Reeves announced Wednesday he has hired Burl Cain, who served for 21 years as the warden at the Louisiana State Penitentiary in Angola, La.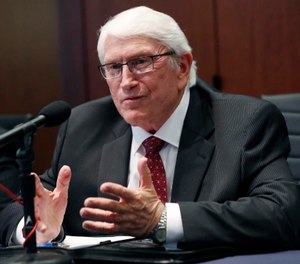 Cain stepped down from Angola on Jan. 1, 2016, following reporting by The Baton Rouge Advocate that investigated private real estate deals he entered into with relatives and friends of inmates.
"Those allegations are unfounded," Cain said Wednesday.
Reeves heaped praise on Cain on Wednesday as a highly respected figure in his profession.
"Angola was once known as the bloodiest prison in America," Reeves said during a media conference on Wednesday. "Then, Burl Cain brought faith, security, safety and significant pride to the prison. Inmates that were on lockdown are now working productive jobs, moving freely throughout the grounds. He proved that he's able to treat the most violent criminals as human beings. He is a nationally cited expert."
Reeves said he and members of the search committee were aware of the allegations made against Cain at Angola.
"It seemed that once the politics were removed that the accusations were basically dropped," Reeves said. "I have absolute confidence in Cain's ability to change to the culture at the Mississippi Department of Corrections. I have absolute confidence he will do so in a way that will make all Mississippians proud. I have zero reservations about appointing him to lead the department of corrections."
Earlier this year, Mississippi's state penitentiary, Parchman, was the site of gang violence that killed five people in the course of one week.
Cain said he would focus on making the prisons more "user-friendly" for families, as well as rehabilitation and building inmates' skills for re-entry into society.
Also on Wednesday, Reeves announced that Sean Tindell, a Court of Appeals Judge and former State Senator, will be named the Department of Public Safety Commissioner.
Tindell is a Republican from Gulfport.
———
©2020 The Sun Herald (Biloxi, Miss.)
McClatchy-Tribune News Service